Published on August 15, 2018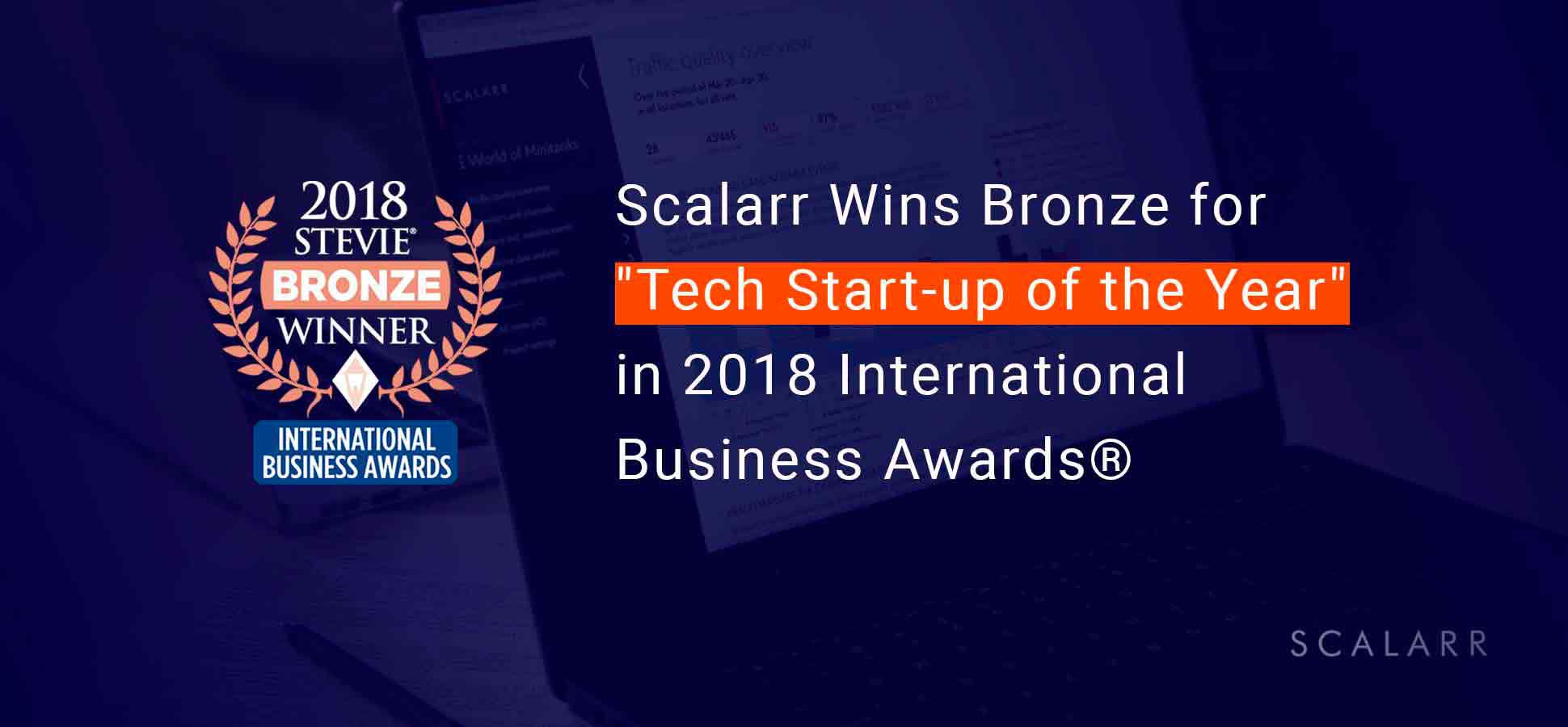 Scalarr Inc. earned two Bronze Medals as a "Tech Startup of the Year" in the 'Services' category and as a "Startup of the Year" in the 'Business Services Industries' category
The 15th Annual International Business Awards® announced yesterday that Scalarr Inc. was awarded "Tech Start-up of the Year" and "Start-up of the Year".
More than 3,900 nominations from organizations of all sizes and in virtually every industry were submitted this year for consideration in a wide range of categories. Stevie Award winners were determined by the average scores of more than 270 executives worldwide who participated on 12 juries.
---
According to one judge: I have no much to talk about this nomination other than "fantastic". It is very professional, scientific, useful, and necessary. Moreover, their calculations are complicated enough to limit fraud risks and, especially, are concentrating on the market needs. I also like their missions of transparency, openness and honesty. Their information is also quantitative and persuasive. In general, Scalarr Inc. is a good candidate for the startup of the year.
---
"This year's Stevie Award winners in the IBAs are the most distinguished group of winners we've had yet," said Michael Gallagher, president and founder of the Stevie Awards. "We raised the minimum average score from the judges required to qualify as a Stevie winner, so 2018 winners should be especially proud of their achievements."
From Inna, CEO and Co-Founder at Scalarr: "I am proud to be a founder and CEO of such a great company. Scalarr was started two years ago, in 2016, with the idea to develop the efficient and highly accurate tool to detect the mobile app-install ad fraud. We launched a very important and reliable business need. Our new business era is now directed very speedy to the digital world. Unfortunately, the mobile world is full of fraudsters. The idea behind Scalarr is to make mobile ecosystem a safe place, which is free from any type of fraud, which are depleting the marketing budgets at a frightening rate. The best result you get with Scalarr is the confidence of running any marketing campaign on any ad network without being afraid of losing money".
Scalarr Inc. earned two Bronze Medals as a Tech Startup of the Year in the 'Services' category and as a Startup of the Year in the 'Business Services Industries' category.
About Scalarr Inc.
Scalarr is an innovative, Machine Learning based Anti-Fraud Solution that detects all types of mobile app install ad fraud with high accuracy by applying both unsupervised and semi-supervised machine learning algorithms, which are continuously learning. Scalarr helps mobile advertisers to stay ahead of fraudsters without any need to update constantly the rules.
Currently Scalarr serving such worldwide famous mobile app and games developers as Goodgame Studios, Pixonic, Huuuge Games, Yandex, Joom, Aviasales and many others, and intends to scale sustainably.
About the Stevie® Awards
Details about The International Business Awards and the lists of Stevie Award winners are available at www.StevieAwards.com/IBA.
The only solution for mobile advertisers is to partner with anti-fraud tools that make use of powerful and intelligent technologies such as machine...
The road to Scalarr's foundation was paved with challenges and opportunities and in this in-depth conversation, you'll learn the story of Scalarr f...