Published on April 8, 2019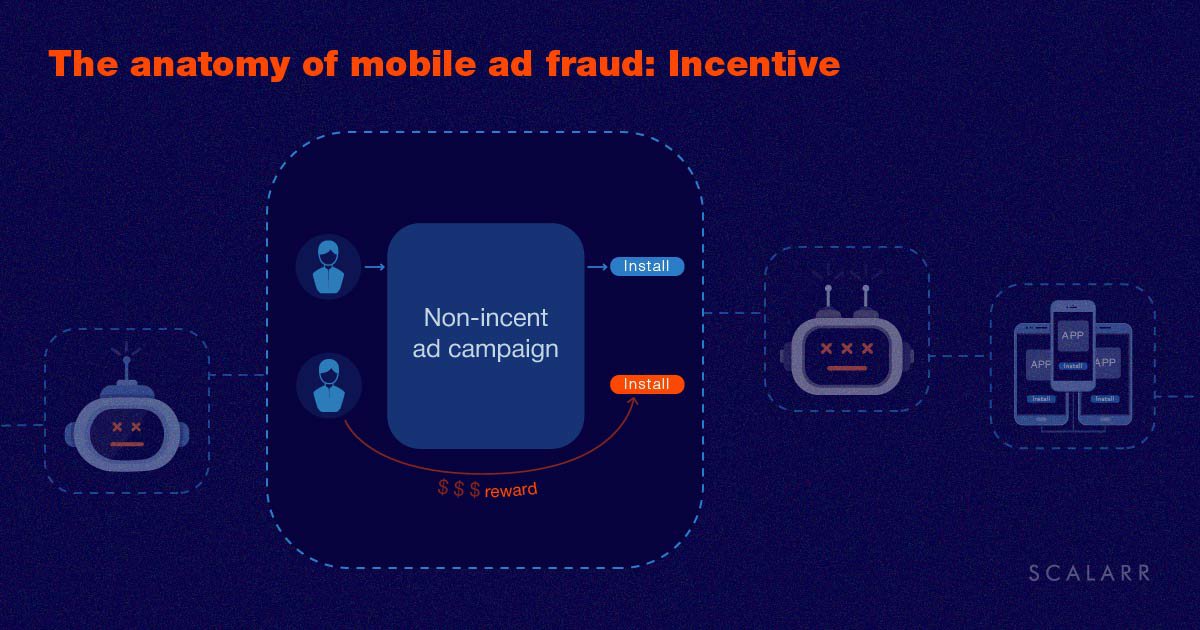 Incentive Fraud happens when real users are motivated to install an app/game in return for receiving some form of reward
Incentive Fraud happens when real users are motivated to install an app/game in return for receiving some form of reward. Attempts to mask incentive installs as non-incentive and receive payment as such was one of the first fraud activities seen. At Scalarr we classify this type of fraud in the Classic Fraud category.
Quick facts
1. In 2018 Incentive Fraud was responsible for 2,5% of all fraud cases.
2. Incentive installs are not considered fraudulent for Cost Per Engagement (СPE) campaigns where advertisers want this type of traffic.
3. Primitive types of Incentive Fraud are identified by high conversion rates (CR) and abnormal post-install event activity.
How Incentive works
1. The user is offered a reward if they install and perform some actions in a mobile app/game. The reward can be soft currency in another app/game, mobile account credit, etc.
2. After completing the requested tasks (download, registration, purchase, etc.), the user receives a reward. However, most users have no interest in the advertiser's product, will perform only the actions required to get their reward, and will stop using the product further.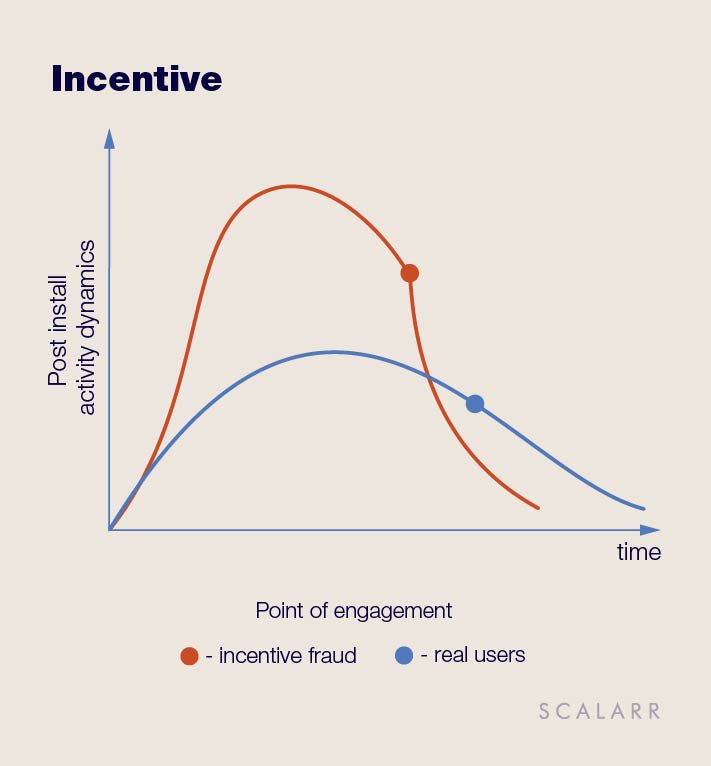 How Incentive works
How to deal with Incentive
High CR, which is used to detect incentive installs, is usually masked in a "dilution" of clicks. These installs come from real devices and therefore they cannot be identified using "device data points" (IP, SDK version, OS version, etc.). The only way to accurately detect and protect against Incentive Fraud is through comprehensive analysis of post-install activity, since fraudsters cannot ideally "fake" the behavior of non-incentive users.
The only solution for mobile advertisers is to partner with anti-fraud tools that make use of powerful and intelligent technologies such as machine...
The road to Scalarr's foundation was paved with challenges and opportunities and in this in-depth conversation, you'll learn the story of Scalarr f...