Published on June 28, 2021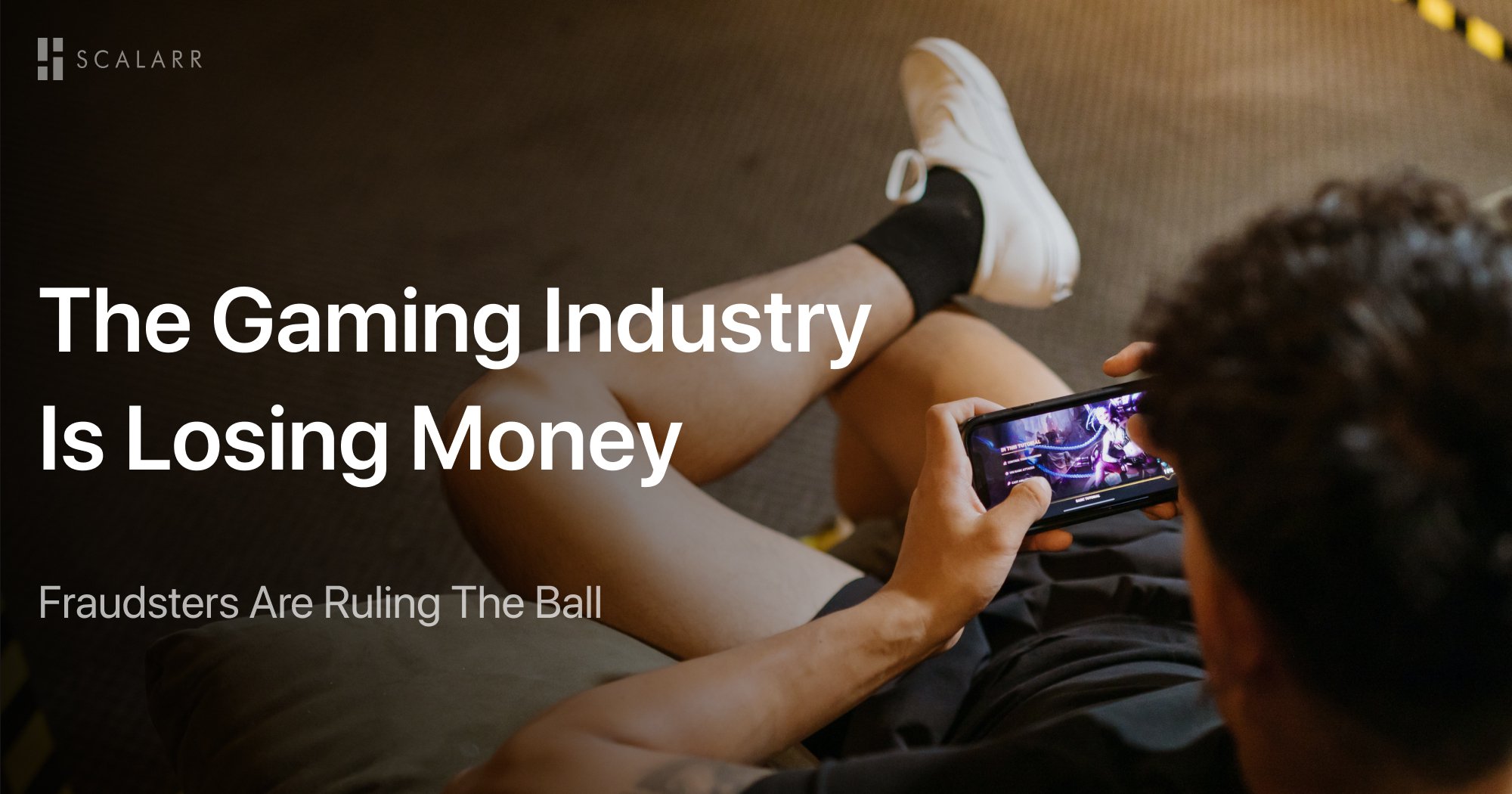 Fraudsters running rampant in mobile games
Another day, another dollar, right? For fraudsters, that is the reality as they are increasingly deploying more sophisticated, complex fraud schemes all while staying undetected. How? Given the global turmoil the pandemic has inflicted, advertisers were also made to face their own set of struggles as they were cornered to slash budgets and put anti-fraud strategies on the backburner.
With fraudsters running rampant, there's much to be done for us anti-fraudsters. Especially in the gaming industry that's one of the most impacted industries across the mobile ecosystem with an astounding 30% of fraud rate harming budgets. For years, fraudsters have benefited from the large number of user activity in mobile games, making it the perfect spot to remain undetected.
A case of suspicious behavior
Our client is a mobile app developer company for both iOS and Android platforms with top-rated games in its portfolio.
We had the opportunity to perform a 14-day deep-dive analysis of our client's datasets, specifically focusing on over 259,000 installs.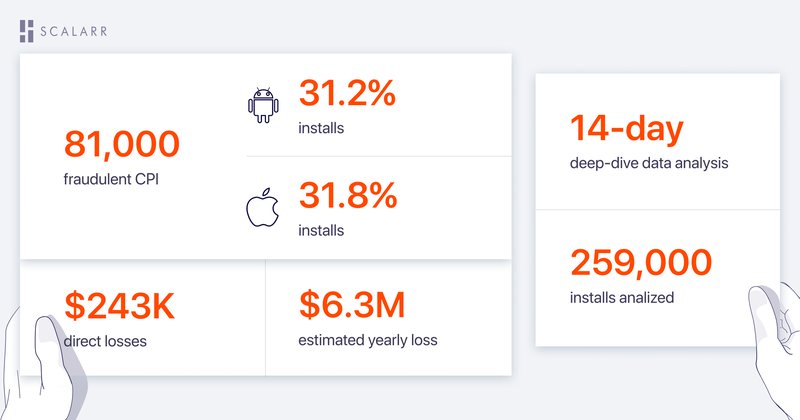 In our research, we found that over 81,000 installs had suspicious behavior and when looked at in greater detail, we ended up marking them as fraudulent. In this number, 31.2% were found in Android installs while 31.8% pertained to iOS installs - a telltale sign that the difference between platforms is far from abysmal, a common misconception. When considering average USD costs of $3 for CPI, the direct losses due to ad fraud totaled $243,000 in just two weeks. When we extrapolate this to an annual basis, the amount could reach $6,3 million US dollars.
When looking at it from all angles, the estimated financial loss could reach $6.3 million on a yearly basis, which is a major loss that could severely impact not only advertising efforts but the overall wellbeing of an entire organization.
Thanks to the timely and effective implementation of Scalarr Protection Suite, our collaboration with our client proved successful, helping them identify the fraudulent, ineffective traffic that was permeating their advertising funnel.
As soon as anomalies signaled fraud, the triggers in place were activated for us to take action, help our client eliminate these fraudulent traffic sources, and negotiate refunds as needed to save their budget.
The recipe for successful fraud elimination
Unrivaled accuracy
Our anti-fraud solutions are powered by an AI engine embedded with powerful algorithms that are capable of detecting and protecting our clients against every single type of fraud, regardless of their level of sophistication. Analyzing millions upon millions of data points in short time frames, we guarantee up to 97% accuracy when detecting fraud. A number that is unrivaled by any other anti-fraud solution in the market.
Superior Analytics
Our Data Science and Analytics teams are not only experts but passionate advocates in the fight against fraud and in the search for a more transparent ad ecosystem. With a common goal in mind, our specialists perform numerous tests and deploy cutting-edge techniques while leveraging best-in-class technology to detect even the slightest anomaly that may signal fraud.
A suite of Detection and Protection Solutions
Not satisfied with being the most accurate solution in the market, Scalarr also boasts a comprehensive suite of products and services that protect advertisers across the entire ad funnel, namely the Scalarr Protection Suite and Scalarr DeepView. This is thanks to our strategic vantage point that enables us to look at data from different angles, working to detect and put a stop to fraud every step of the way.
Hassle-Free Tools
With a granular, robust dashboard, our clients can easily access and see the current state and quality of their traffic, thus powering strategic decision-making activities and initiate refund negotiations to help our clients save money that might otherwise end up in fraudsters' pockets. With easy implementation and little effort on their part, our clients benefit from our tools quickly and efficiently.
>90% Success Rates in Rejection Claims
Granular data supports decision-making tasks for clients who successfully negotiate refunds with end-to-end help from expert resources at Scalarr.
About us
Scalarr is an AI-powered cybersecurity and anti-fraud solutions company specifically built to protect clients by bringing transparency into their data and preventing financial loss.
Our innovative Machine Learning-based fraud detection tools for app developers and marketing teams analyze ad campaign data at all stages starting from the click and the unlocking of post-install event analytics to protect your traffic, giving you optimal results for ROAS increase.
Contact us today to protect your tomorrow Scalarr.io
The only solution for mobile advertisers is to partner with anti-fraud tools that make use of powerful and intelligent technologies such as machine...
The road to Scalarr's foundation was paved with challenges and opportunities and in this in-depth conversation, you'll learn the story of Scalarr f...