Published on August 16, 2022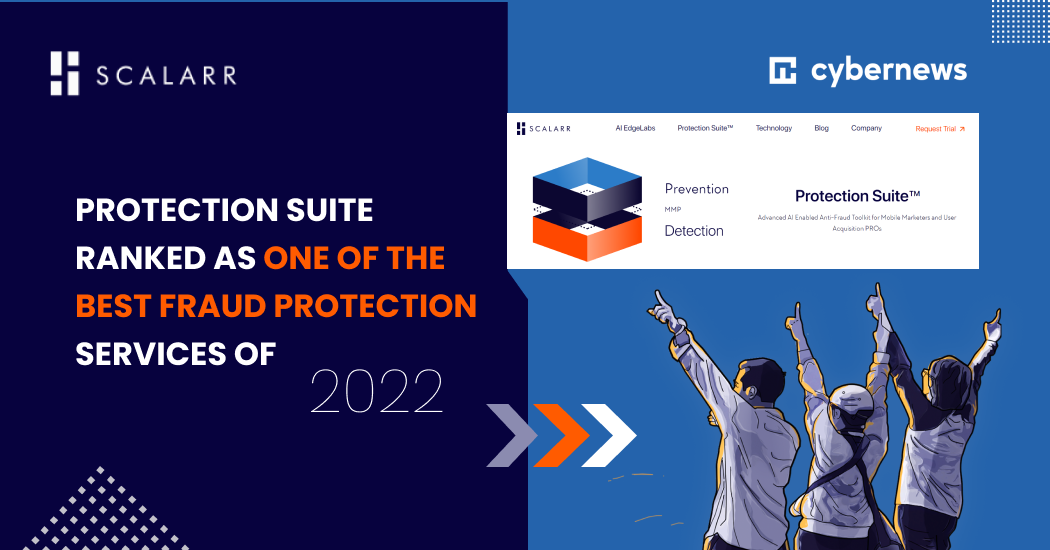 Scalarr, founded by Inna Ushakova, is excited to share that CyberNews has listed Protection Suite™ as one of the best fraud protection services of 2022.
The publication lists some of the most noteworthy fraud protection services available in the mobile industry, highlighting the importance of leveraging smart technologies like AI and machine learning instead of rule-based approaches to fraud prevention and detection.
Since 2016, Scalarr's primary focus has been fighting mobile ad fraud with the smartest technologies and transparency, and we've done just that. Over the years, we have amassed a collection of achievements, awards, recognitions, and most of all, the satisfaction of delivering quality, accurate, and value-driven anti-fraud solutions to our clients.
"As fraudsters continue to evolve, it's part of our promise to our clients that we always stay one step ahead and provide industry awareness of the criminal methods fraudsters use to attack. Being listed as one of the best fraud protection services of 2022 by CyberNews is a direct result of the hard work all of us at Scalarr do and will continue to strive for." said Inna Ushakova, Scalarr's CEO and co-founder. "I'm beyond happy with this recognition and proud of our team's work," she concluded.
Scalarr is leading the fight against mobile fraud to protect its clients from all kinds of bad mobile advertising threats. It does this by using a machine learning engine that is unmatched and guarantees up to 99% accuracy in detecting mobile ad fraud. Scalarr has self-learning, automated, and cutting-edge multi-layered machine learning algorithms that give it all the capabilities it needs to process and analyze huge amounts of data to find and stop fraud by spotting even the smallest change in traffic patterns.
Scalarr's dual-layered, next-generation Machine Learning algorithms and neural networks make Scalarr's Protection Suite an industry leader in ad fraud detection and protection, from initial click to post-install events.
Being listed with other key players in the field with longer trajectories is a testament to how much we've achieved in such a short amount of time, and it's all thanks to our wonderful team who pour every ounce of talent into creating the best, most accurate, and most advanced anti-fraud solution for the mobile ecosystem out there.
Want to know more about Scalarr's Protection Suite for robust, accurate, and effective anti-fraud protection and detection? Contact us today.
The only solution for mobile advertisers is to partner with anti-fraud tools that make use of powerful and intelligent technologies such as machine...
The road to Scalarr's foundation was paved with challenges and opportunities and in this in-depth conversation, you'll learn the story of Scalarr f...