Published on March 27, 2020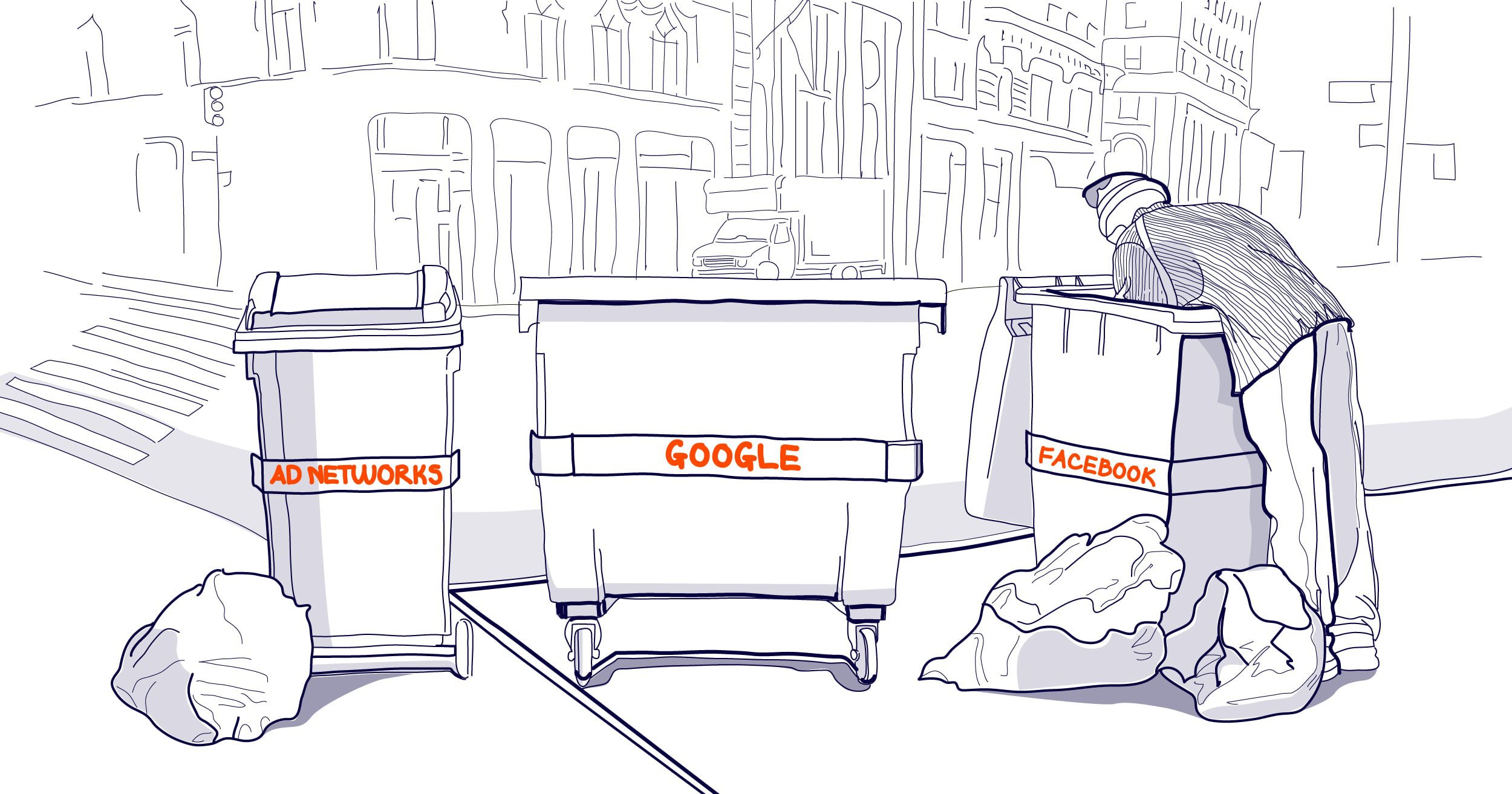 The hunt for treasure in the marketing world grows fiercer as Marketers and UA Managers look for gold, a.k.a. trying to attract new users. Are you doing everything it takes to scale your UA campaigns successfully?
The hunt for treasure in the marketing world goes hand in hand with the emergence of User Acquisition (UA). Marketers and UA Managers are looking for the lucky treasure chest filled with gold (or in this case, new ways to attract users).
Two months ago, we interviewed UA Managers among our clients as well as top app developers to understand the UA market better.
Here are some of the trendiest topics that were discussed: (i) having your own DSP, or at least a Machine Learning (ML) Bidder; (ii) D7 ROAS as a central KPI to optimize UA campaigns; (iii) fraud; (iv) attribution; (v) and the overall role of Machine Learning.
With a lot of ground to cover and new challenges making an entrance, there is one thing that remains a constant: the need to find new, innovative ways to attract users.
With that being said, there are new influencing forces that come into play:
A lot of developers have suffered by moving from ad networks (because of fraud) to Facebook and Google. Given their magnitude and reach, it's natural for developers to feel like these two are all that's necessary to scale UA campaigns successfully. Unfortunately, high CPIs can go up pretty quickly and it's difficult for developers to stay profitable.
The D7 ROAS continues to be the main metric to measure the efficiency of ad campaigns, but it's far from giving accurate predictive revenues. Which raises the question: what KPIs can marketers use to measure campaigns more efficiently?
Fraud exists everywhere, even in Google and Facebook.
Attribution providers have their hands full with cross-channel attribution, namely TV/OTT.
Machine Learning continues to be a mystery to a lot of media buyers. Most don't know how this technology fits with their strategy, even though it has been widely used by social platforms to fully automate UA activities for customers.
Data restrictions, like the California Consumer Privacy Act (CCPA) or the General Data Protection Regulation (GDPR), that make it more challenging to target and harness valuable users while trying to stay compliant.
Media buyers bet on creatives while trying to optimize ad campaigns since it's the only thing left to do through Google and Facebook.
This heady mix has led to a lot of speculation in the market, but it has also fostered the creation of a lot of progressive solutions from data-driven marketers. Let's talk about them.
DSPs Flywheel Effect
Facebook and Google have their set of shortcomings that make marketers pay attention to smaller, non-trusted networks.
Here are the main issues you'll find in Facebook and Google: (i) very high bids; (ii) lack of transparency for optimization purposes (along with blind sources in the case of Google) that makes it hard to know where exactly an ad is placed; (iii) lack of control to customize campaigns and impact the optimization process since everything is already done in advance. This makes it hard to tailor campaigns for customers and gives competitors the same opportunities.
It's no wonder developers are beginning to give up on ad networks and lean towards DSPs as a new way to gain highly valuable users for less money. DSPs have evolved since their first appearance in the market; now, marketers have a greater chance to get users from DSPs than from other resources.
From the pool of 100 UA Managers we interviewed, 75 mentioned they want to scale programmatic channels, while 65 considered it's time to develop the tech stack needed to buy more effectively and that includes having an ML Bidder or an in-house DSP.
Right now, the trendiest DSPs are self-served like Smadex or those who have openRTB (Real-Time Bidding) protocols, much like Verizon/Yahoo. In the case of Verizon/Yahoo, marketers can use it together with their own DSP or ML bidder. MZ has gone through a trial-and-error phase in building its own DSP disruption platform.
Through great execution and unparalleled access to cheap and large amounts of inventory, the DSPs flywheel effect can spin marketers into bigger volumes of traffic coming together with more transparency and lower bids.
Of course, there is always the challenge of fraud in DSPs. And it exists in places where it's impossible to get refunds from some of the biggest players in the game. But the truth about fraud is that if discovered and proved, marketers can reject it. For accuracy, marketers need to add an advanced anti-fraud tool to their marketing tech stack to help them stay protected.
Another cause for concern is the auctions. With the goal of supporting big data flows and deciding who the ad placement will go to, it's necessary to employ true machine learning.
Data management is also a big question. Several DSPs have their own built-in data management systems and compete with 3rd party solutions that are focused on a single task. There could be another shift in the market as MMPs try to revolutionize themselves into DMPs. Marketers need a really good one to analyze data deeply, predict further user paths, and as well as revenue.
Ad Networks vs. Google vs. Facebook vs. ROAS D7
Google and Facebook are sometimes the first and only options that marketers focus on to scale user acquisition campaigns. To prove our point, both tech giants are expected to collect an astounding 60.7% of digital ad spending in 2020.
While some marketers feel it's an unnecessary risk to use non-trusted sources since they're oftentimes associated with high levels of fraud, thus only buying traffic from Facebook and Google, there are still a lot of stats on the market which say that another approach could be an option.
On average, our clients earn from 30-35% in revenue from conditionally-trusted ad platforms compared to the total revenue earned from paid campaigns.
While smaller networks don't typically offer fraud-free guarantees, their prices and broader reach are more than enough incentive to give them a try and expand marketing horizons. Take a look at the stats below to see the average CPIs that some of our clients have on different ad platforms.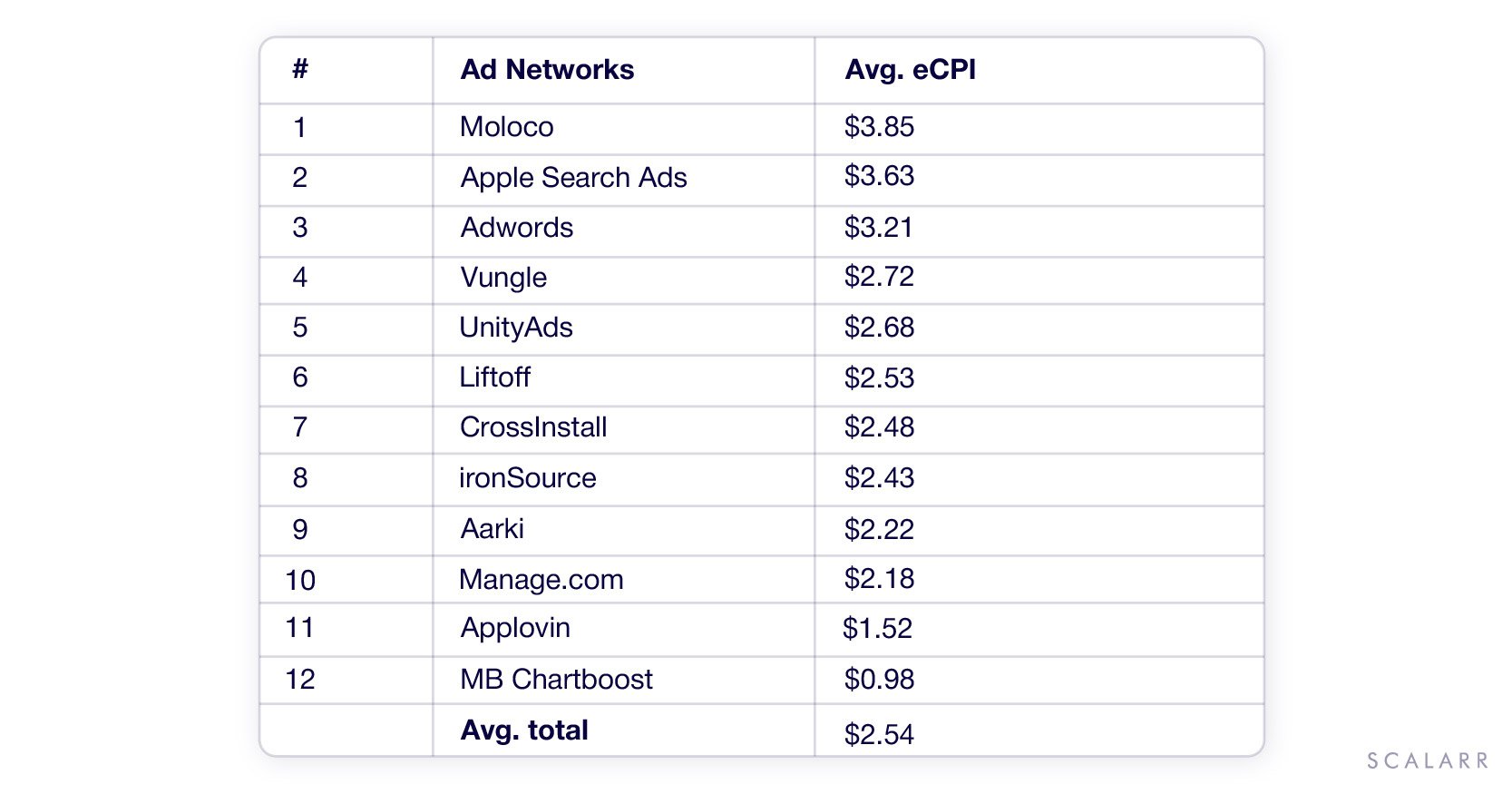 Marketers and UA Managers need to consider all of this along with the fact that it's very challenging for Facebook and Google to reach every nook and cranny that needs to be addressed, which is why it's a smart move to use lesser-known networks.
Misha Syrotiuk, head of Ad Networks & Programmatic for UA at Huuuge Games had this to say on the subject:
"We have limitations on Google in those countries where we can purchase media. For example, in Russia, UAC is not available for social casino, and whereas Facebook is available but it's rather limited in terms of inventory. So if we, as a social casino advertiser, want to purchase media in Russia, it's good to go beyond Facebook where Google is not available. So it happened a few years ago and we do work with those programmatic media partners up until today, and they became, probably in between 20 to 40% share in terms of UA spend depending on OS or country in Huuuge Games' portfolio."
Bottom line, to avoid losing potential markets, which are closed for Google and Facebook, we recommend exploring more ad platforms.
For example, some of the most popular sources to reach users in Russia are MyTarget, UnityAds, IronSource, Liftoff, Bidease and AdMixer, to name a few.
Privacy, please.
As the popularity of Google and Facebook continues to soar, so do data restrictions. While they have the infrastructure and are experts in processing massive volumes of data, some aspects weaken under this weight. Examples include customization, third party integrations, access to data, reporting, etc.
Google, rather stealthily, deployed a new restriction in January 2020 where iOS app installs driven by search traffic on Apple devices can't be attributed to third-party networks. Advertisers will feel the blow of this punch since they won't be able to promote an app through attribution providers and verify which traffic source generated profits.
So, can be done? Creative optimization can work when it comes to addressing the end user but it means working without actionable data.
With all of this in mind, the optimum route is, if resources allow it, to create a healthy traffic mix that's composed of the Facebook-Google twosome coupled with smaller networks that expand reach.
What about fraud?
In a nutshell, fraud is increasingly becoming more sophisticated. Scalarr's Data Science and Analytics teams work around the clock to look for anomalies in data. The challenge lies in the fact that there are a lot of fraud schemes working behind the scenes on many different levels.
Data is the key ingredient to uncover non-legitimate or fake installs. Ad networks, media buyers, and the majority of inventory out there are represented by legitimate companies in the market, but they are blind without data. And even with the right data, it's very hard to eliminate fraud single-handedly or through traditional methods. The best solution is to employ advanced algorithms.
Here are some valuable recommendations:
Choose an anti-fraud solution. When partnering with an anti-fraud solution, marketers and UA Managers can rest assured and know there are dedicated resources to analyze their traffic and ultimately, detect and reject fraud in order to protect the mobile app against it, especially when using non-trusted sources. The true differentiator is to use an anti-fraud solution that employs Machine Learning to detect fraud as it is the only technology capable of detecting fraud at any level imaginable.
Dedicate an in-house team to analyze and validate traffic that comes from non-trusted sources. That way, the team can keep a close eye on specific KPIs and other performance metrics that can alert to any wrongdoing or the presence of anomalies. At the same time, understanding whether this "fraudulent source" is really harmful or if the portion of clean traffic it brings could get you a true uplift in revenue.
Overall, it's unwise to deprioritize fraud. Instead, it should be treated with an assertive data-driven approach. Sometimes, we see up to 5% of all traffic as being fraudulent one month, but the next, it spikes up to 35%. With everything being measurable, a deep look into numbers will help marketers see that not everything is black and white when it comes to data.
What about attribution?
Most of the developers we interviewed asked our team about effective cross-channel, human-based attribution, and whether it was attainable. This is something that we definitely need along with standardized protocols of attributing installs for all sources. With these measures in place, attribution could reach new levels.
Final words
UALand, the place where anything goes. So, where is the treasure hidden?
Staying truly data-driven and keeping an eye on metrics will help marketers and UA Managers choose the right strategy to promote their apps, including which channels they should buy from. Right now, DSPs are looking very attractive and are gaining traction in the market that is always looking for novelty ways to attract new users. Maybe they'll end up becoming a force of transformation in the UA industry. Let's see what the future holds.
***
If you want more details about how Scalarr's anti-fraud tool can employ personalized machine learning models specifically for your app and that guarantee accuracy of up to 97% in fraud detection, request a trial and contact us so we can work together.
The only solution for mobile advertisers is to partner with anti-fraud tools that make use of powerful and intelligent technologies such as machine...
The road to Scalarr's foundation was paved with challenges and opportunities and in this in-depth conversation, you'll learn the story of Scalarr f...