Published on April 24, 2019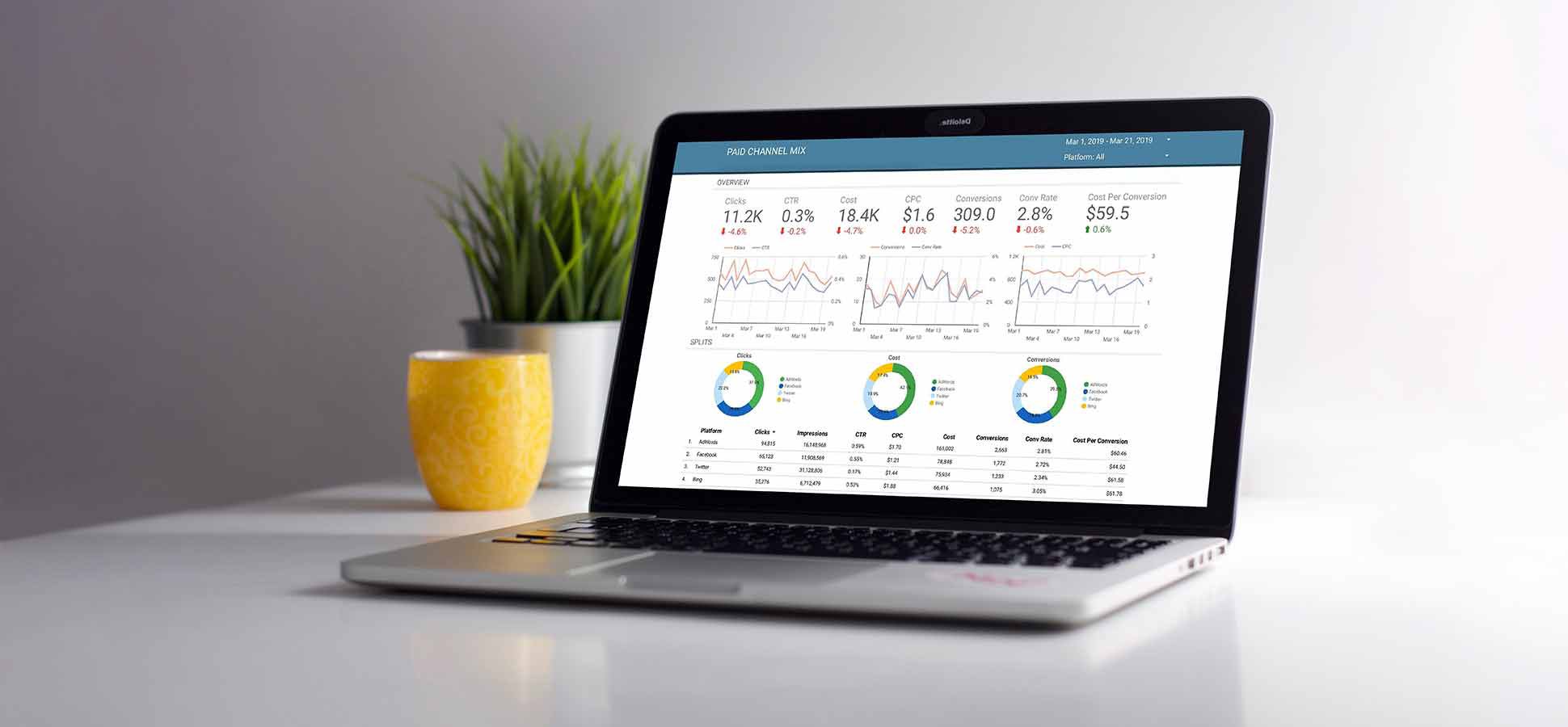 Redistributing marketing budgets to "trusted" sources isn't a cure-all solution, and there are pros and cons for using both "blind" and "trusted" sources in any marketing campaign
The year 2018 saw user acquisition from trusted sources going up by over 212 percent and it's highly likely that in 2019 the trend of redistributing marketing budgets from blind sources to trusted sources will persist, if for no other reason than that mobile marketers tend to believe that trusted sources are a panacea against fraud and will bring only high-quality traffic.
But the truth is that redistributing marketing budgets isn't a cure-all solution, and there are pros and cons for using both types of sources in any marketing campaign. Let's take a look at the year-by-year data for app developers' marketing budgets distribution between blind and trusted sources.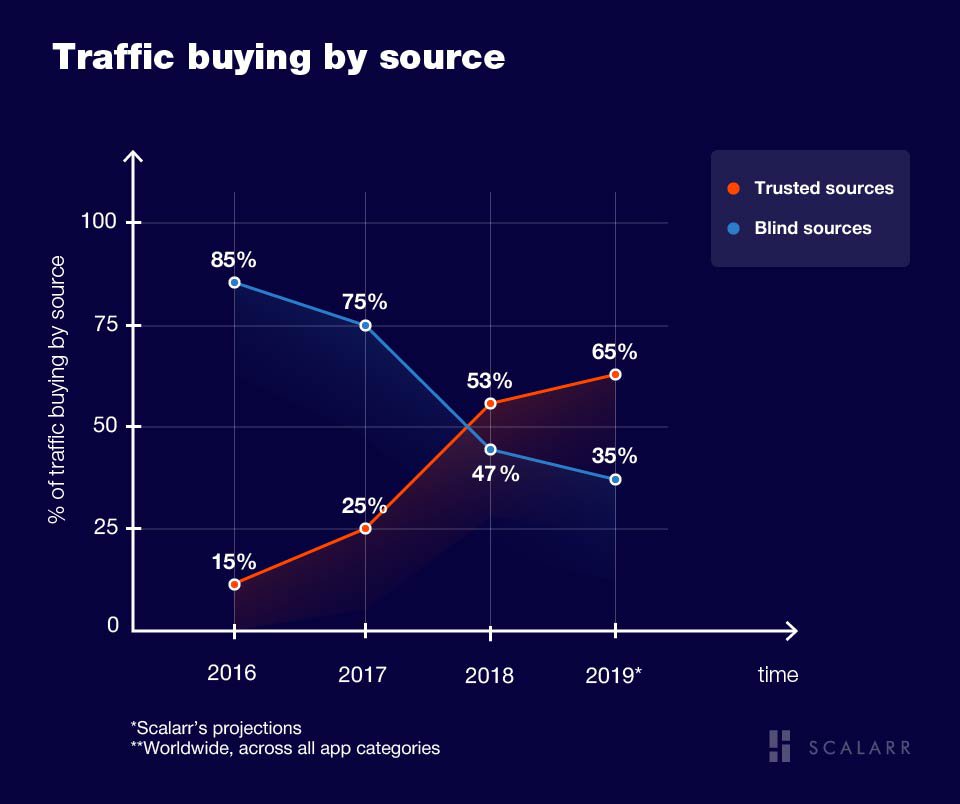 Traffic buying by source
There's been a steady shift away from blind sources towards trusted sources. However, whether this is a universally effective approach is uncertain. Because directing marketing budgets exclusively to trusted sources is not always economically feasible, these type of ad campaigns tends to be quite a bit more costly. It's also important to consider their effectiveness, taking into account such KPIs as CPI (Cost Per Install), LTV (Lifetime Value), fraud rate, ROI (Return on Investment), and their interrelation.
Marketing via trusted sources has some clear advantages. They allow conducting highly targeted custom-tailored ad campaigns via a wide range of ad tools (banners, video, playable ads, etc.), generally engaging a much more relevant audience. And, at least for now, they are less affected by fraud.
But there are also disadvantages, namely, higher CPI (Cost Per Install)/CPA (Cost Per Action) rate and higher entry thresholds (for example, video ad networks have a minimum budget requirement to run an ad campaign). And where there are increased budgets we can expect a higher incidence of fraud.
It is reasonable to say that in certain categories of applications purchasing traffic from blind sources may be more cost-effective and impactful than purchasing it from trusted sources. This is particularly applicable to mobile games and e-commerce industries, where social and video ad networks appear to pack the most punch.
Consider this: when buying the same number of installs for a mobile game from trusted sources (CPI=$3.5) vs. blind sources (CPI=$1.2), the total revenue from users acquired from trusted sources appears to be higher. However, when we take into account the customer acquisition cost (CAC) and calculate the average revenue per user (ARPU), then the total revenue can be up to 20% higher for users acquired from blind sources than from trusted sources.
The Next Frontier in Fraud Prevention
Take a look at the numbers in the graph below. They show that although the prevalence of fraud is still much higher in blind sources. But there's a clear trend that as marketing budgets are more and more directed towards trusted sources, the fraud rate is on the upswing.
Keep in mind:
There's a clear trend that as marketing budgets are more and more directed towards trusted sources, the fraud rate is on the upswing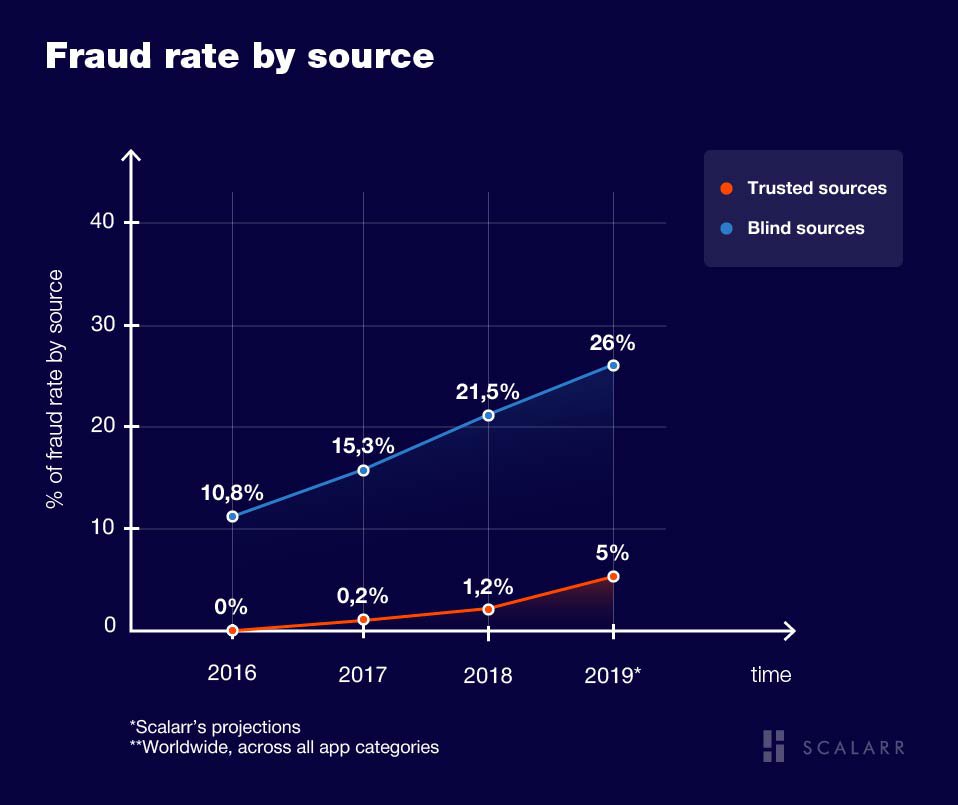 Fraud rate by source
Ad fraud can take many forms. One example can be found in the recent story about Cheetah Mobile, and this is one of the scenarios that app developers can encounter: fraudsters buy or hack popular apps and then fake clicks and steal installs along with advertisers' marketing budgets. This shows that fraud is omnipresent and can be found even in the best and most useful apps downloaded from the best platforms.
One of the "blind zones" of some trusted sources is that they offer no way to manually optimize ad campaigns. Neither the advertisers nor trusted sources themselves have any control over the particular ad placements channels: the process is implemented exclusively by internal algorithms, with no manual input option whatsoever.
By utilizing only a handful of trusted sources, advertisers are putting their business at risk: what if the platform fails, their traffic slows down to a crawl, or they get banned? Diversifying user acquisition sources adds another level of protection for the business by minimizing the potential hits to their traffic and pocket if a single revenue stream dries out. However, looking at the continuing spread of fraud across both blind and trusted sources, the best way to protect your app is to arm yourself with an advanced mobile ad fraud detection solution.
The only solution for mobile advertisers is to partner with anti-fraud tools that make use of powerful and intelligent technologies such as machine...
The road to Scalarr's foundation was paved with challenges and opportunities and in this in-depth conversation, you'll learn the story of Scalarr f...