Published on February 23, 2021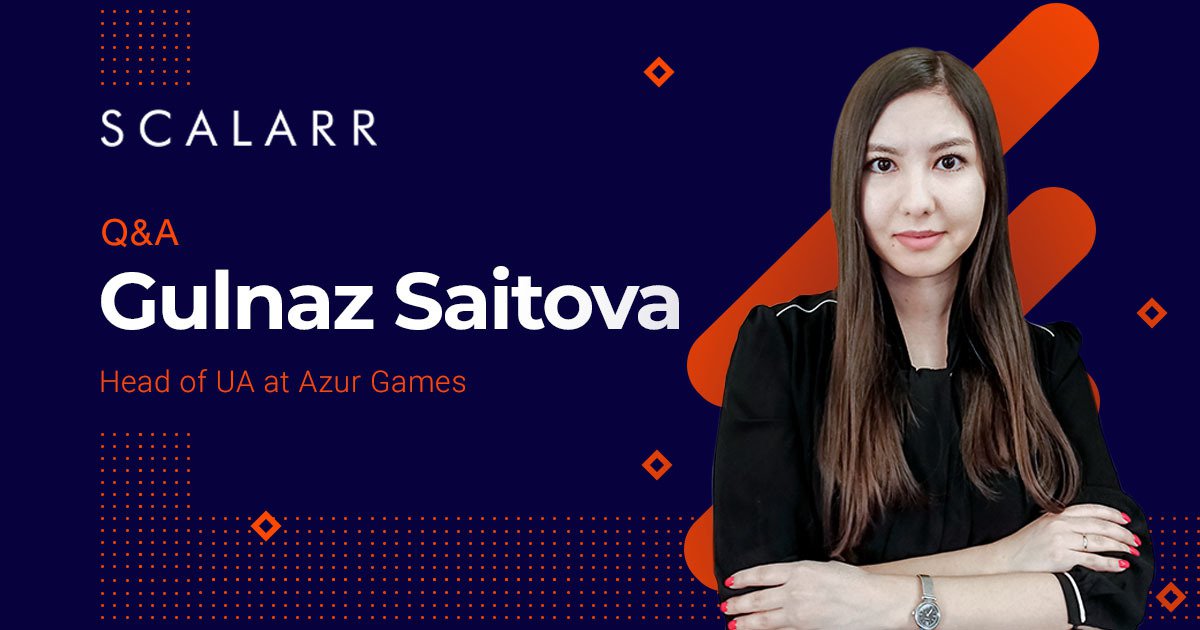 ABOUT AZUR GAMES
Azur Games forges ahead with the ambitious goal of crafting the most diverse and exciting in-game worlds. Under this banner, the team strives to wow the mobile game community with unique products that give gamers what they want.
Today, Azur Games has a staff of 300+. The company's main mobile projects include World War Heroes, Modern Strike Online, Jurassic Monster World, Pocket Troops, Worms Zone, Stack Ball, Homo Evolution, and others.
Azur Games is a data-driven company of market experts dedicated to creating original hit games. They experiment with settings and genres to hunt down and occupy new niches.
ABOUT GULNAZ SAITOVA
With several years of experience under her belt, Gulnaz Saitova is the Head of User Acquisition at Azur Games. In this Q&A, she shares with us her background in the gaming industry as well as the driving forces of her current role. To top it off, Gulnaz speaks about her favorite marketing approaches, methods and instruments.

1.- Scalarr: Hello Gulnaz, thank you for joining us today! We'd love for our readers to know more about you and the great team at Azur Games. Can you please share with us some background on Azur Games and what it's like to work in the hyper-casual games industry?
Gulnaz Saitova, Head of User Acquisition at Azur Games: Hi! Of course, it's my pleasure! Azur Games is an international developer and publisher of mobile games. Our portfolio consists of nearly 70+ free-to-play games in different settings and genres. Today, Azur Games has a team of more than 300 employees who work on developing mid-core and hyper-casual games and several projects with other gaming studios. At Azur Games, we believe that one of the key goals is enabling the most comprehensive possibilities for our developers, helping them with Analytics, ASO, Localization, UA, and much more.
2.- Scalarr: It sounds like you have a well-oiled machine running there! When it comes to game genres, can you give us your views on what makes hyper-casual games different from mid-core from a marketing perspective?
Gulnaz: In User Acquisition, the most significant difference between hyper-casual and mid-core games is, of course, the target audience. We can say that hyper-casual games are designed for a broad audience of users who enjoy short gaming sessions. These types of games are simple, easy-to-play, and can be enjoyed in short playing sessions. One great example would be our app – Stack Ball – where users can get started in a matter of minutes. All marketers know how important it is to know your target audience, and in this case, it can be any person.
As for mid-core projects, our approach is significantly different. Let's take an example of our top shooter game – World War Heroes. These projects are more long-term with longer gaming sessions and where monetization is mostly done through in-app purchases. The critical differences in UA strategies for these two genres consist of selecting advertising channels for each title, fine-tuning creatives, methodologies in set-up and optimization of marketing campaigns, and accurate tracking.
A broad portfolio of Azur Games titles makes our work exciting but challenging and allows us to find non-standard solutions for our daily tasks.
3.- Scalarr: Thank you for this insight. When it comes to your channel-buying tactics, why do you choose to work with ad networks, exposing yourself to potential fraud risks? Why not put all your ad budget in Facebook or Google?
Gulnaz: No doubt Facebook and Google are trusted and reliable UA channels for our whole industry, but as a marketer, I'm convinced that you "shouldn't put all your eggs in one basket."
For Azur Games, it's crucial to achieve maximum reach and cover all target audiences using a wide variety of marketing channels. The key pillars of our success are identifying trustworthy partners and using robust anti-fraud solutions for protection.
When it comes to UA, diversifying traffic sources can't be undervalued. Relying only on a few traffic sources can easily result in a sudden increase in acquisition costs and can seriously limit your optimization strategies.
4.- Scalarr: As we know, Azur Games makes around 30 new titles a year. So how do you manage to oversee all these UA campaigns? What is the secret of your efficiency? Please tell us a bit more.
Gulnaz: The answer is quite simple: all you need for success is a strong team with uncompromised love for what they do. For me, work is my hobby. I'm convinced that no one can stay productive if they don't love what they do. I'm fortunate to be part of such a professional team and proud that we have a very warm, friendly, and supporting environment.
Other key success factors are self-discipline and the ability to adjust your priorities quickly. In such a fast-paced industry, marketers should always be ready for changes, continuously learn, and master their skills.
Another factor is our policy. At Azur Games, we support flexibility, original thinking and always strive to embrace transparent processes. Azur is actively promoting out-of-the-box thinking and provides maximum freedom to all our employees, allowing them to operate independently and come up with the best solutions.
Finally, it all comes to organizing your time correctly. I try to keep only the necessary information in my head and track all tasks in Google Calendar to make sure I don't miss anything. These simple rules help me achieve my goals and solve all tasks in the shortest amount of time.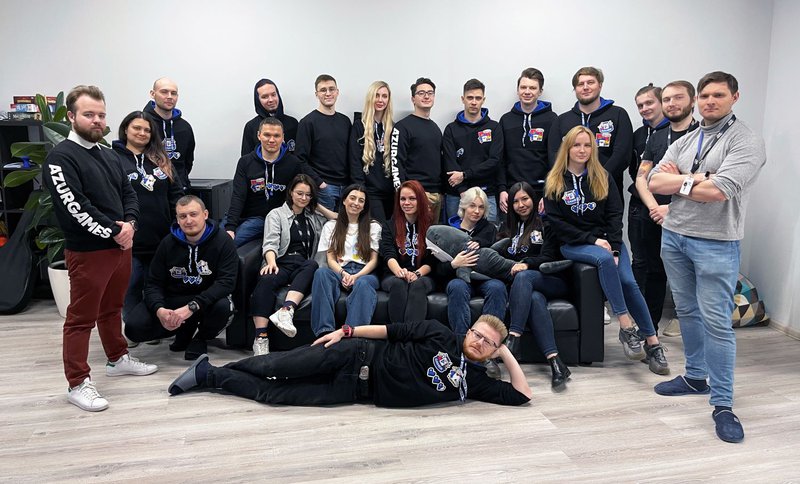 5.- Scalarr: That sounds like an excellent philosophy for other teams to take note of and potentially emulate in their organization. So, what tools do you use in your marketing stack to manage a significant UA expansion?
Gulnaz: My workday consists of using tools like Appsflyer, Google Docs, App Annie, Sensor Tower, Excel, and a suite of internal tools. For example, our BI system groups all metrics from different sources in a single spot, making it easy and quick to access any metric at both the campaign and creative levels. This BI system is continuously improving thanks to our excellent team of analysts and programmers, enabling the marketing department to quickly adapt to the changing market conditions and simplify the decision-making process when optimizing campaigns.
6.- Scalarr: Those tools do sound like they make your workday flow better! So, when Azur releases a new app and begins UA efforts, what does the process look like across different stages (soft launch, full launch, post-launch)?
Gulnaz: In a highly competitive environment with hundreds of games appearing in app stores every day, pre-testing is critical in economic terms.
At Azur Games, new launches are always carried out with a small test budget, in which we evaluate traditional project metrics (CPI, Retention, LTV).
The next iterations are planned based on the test results. During the soft launch stage, in addition to evaluating metrics, we also identify and fix bugs in the project, confirm or refute hypotheses based on the chosen settings, design and mechanics, and finally, identify which creatives work best for a particular project.
We do almost all types of creatives in-house. Developing internal expertise for each genre is very important to pump up an observation or be ready to experiment. Maintaining a unified knowledge base and centering our daily work around BI allows us to continually identify trends for each vertical and improve our strategy to build an individual approach for each of the projects.
As a rule, we test several hypotheses about creatives. For example, we take several different gameplays from the initial levels and experiment with visuals and designs based on the cases that have already been tested.
When developing creatives, both at the soft launch and global launch stages, taking the networks' characteristics into account is a must. We also closely monitor industry peers' and competitors' approaches when it comes to creatives.
In practice, even minor changes in a creative can significantly increase conversion rates, allowing you to buy much more traffic without increasing CPI. It's important to understand that at the global release stage and beyond, the work and optimization of creatives and the advertising campaign do not stop. Creatives "burn out" very quickly. There are rare exceptions when one creative can perform a year or two, but this is the exception to the rule. We've seen that 80% of an ad campaign's success in attracting user attention is thanks to the creatives. We are continually searching for new approaches to buying traffic, testing bundles, combining targets with creatives, and experimenting with new traffic sources.
7.- Scalarr: That sounds interesting, and we're sure many will benefit from this behind-the-scenes look you gave us into Azur's UA process. Now, moving on to the topic of mobile fraud in campaigns. What was your first experience interacting with mobile ad fraud as a marketer/user?
Gulnaz: I guess the first time I encountered mobile ad fraud was back in 2015. I was only starting my career in the UA field and didn't know that much about fraudulent traffic. I remember that at that time, my team and I experimented a lot with different traffic channels. One of them delivered a massive batch of installs with a pretty good performance, so everything looked good. After some time, we identified discrepancies in the post-install performance of these campaigns and began a more significant investigation with our Analytics team. Finally, we confirmed our suspicions as all in-app purchases were, in fact, fake. Luckily, the publisher understood our concerns and helped us to resolve this issue favorably. That was my first (but not last) experience dealing with mobile-ad fraud.
8.- Scalarr: Having faced an issue of mobile ad fraud in your career since that first encounter, what convinced your team to try Scalarr as your anti-fraud solution? How has Scalarr impacted your UA strategies?
Gulnaz: We always seek new opportunities for our company and unique points of growth. The mobile ad-fraud issue has always remained relevant for all advertisers. We decided to partner with Scalarr because we recognized the high level of its team expertise. We've also been attracted to the fact that the company provides full support during negotiations with our marketing channels and continuously optimizes its ML models to detect more and more new types of fraud.
9.- Scalarr: Besides those features and capabilities that drew you first to our product, what are the most significant benefits you've experienced by working with Scalarr?
Gulnaz: Scalarr can detect fraud at its earliest stages, no matter how frequently fraudsters change their schemes, which is very helpful in avoiding wasteful budget spending.
We like that Scalarr saves us a considerable amount of time by supporting us through the reject negotiations process with our partners. I know that our User Acquisition managers are pleased with this because they don't always have enough time to examine data at the granular level of detail that Scalarr provides.
The Scalarr team is always improving its portfolio of service offerings. Their dashboard has made our lives more comfortable as it is very intuitive to understand and use, yet it allows us to look through data as deeply as we need to.
10.- Scalarr: We appreciate the kind words! Why do you think fraudsters target hyper-casual games? Don't casino and mid-core games offer significantly higher payouts?
Gulnaz: I assume that it's easier for fraudsters to hide within big traffic volumes. In that case, they don't need to emulate the completion of certain in-app events, such as making in-app purchases, reaching certain levels, etc., since more short-term metrics are used for their analysis.
11.- Scalarr: Based on what you've seen so far in your tenure at Azur Games, what techniques are the most popular for fraudsters targeting Azur Games? Why do you think they use these?
Gulnaz: We mostly encounter mobile ad fraud types like Modified Click Spam and Click Injection. By attributing organic installs (e.g., Click Injection) that show the real users' behavior, fraudsters minimize their risks.
Scalarr's anti-fraud solution can quickly identify fraudulent activity even when fraudsters mix different schemes at once, which has become a big-changer for us.
12.- Scalarr: Let's touch briefly on your strategy of launching a new game. When a new title comes out, what is your strategy to drive traffic to it?
Gulnaz: I'd say that we're pretty flexible in our strategies depending on the project's specifics and genre. For every title, our team develops a unique strategy based on its scalability, target audience, project metrics, etc.
13.- Scalarr: That strategy makes a lot of sense. Can you give us and our audience three more tips for marketers trying to acquire new users but who are concerned about fraud?
Gulnaz: Firstly, work only with proven, reliable partners. Secondly, make sure you set KPIs and define the traffic quality indicators beforehand to avoid wasting your marketing budget. Thirdly, use a trusted anti-fraud solution like Scalarr.
14.- Scalarr: Thank you for those superb tips! Last but not least, how does your team prepare for the iOS 14 release? How will it impact your UA strategies?
Gulnaz: To date, we've been in constant contact with our MMP – Appsflyer – as well as our data collection framework ad-partners as we approach the post-opt-in IDFA tracking era of iOS 14.
The market doesn't yet appear to have a single answer to cover all aspects of how critical these changes will be for the industry. We're sure that the industry and tracking services will adapt their working mechanisms to these upcoming new realities.
Scalarr: As always, thank you for your time, Gulnaz! We wish you and your team continued success into 2021 and beyond!
Gulnaz: It's been my pleasure! Thank you for having us!
The only solution for mobile advertisers is to partner with anti-fraud tools that make use of powerful and intelligent technologies such as machine...
The road to Scalarr's foundation was paved with challenges and opportunities and in this in-depth conversation, you'll learn the story of Scalarr f...