Published on September 4, 2020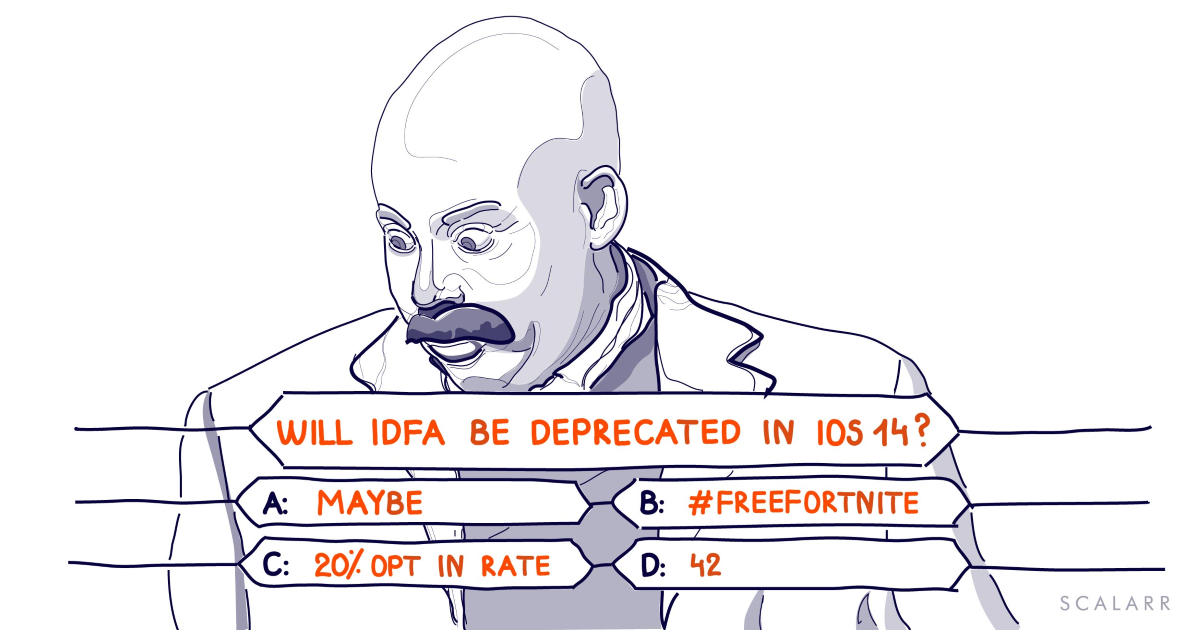 When it comes to IDFA, there is a lot of misinformation and rumors floating around. There are also great industry insights and exciting solutions for what's in store.
For quite some time, marketers feared a future where Apple finally decided to kill IDFA for good. Well, the announcement at WWDC 2020 about making IDFA an opt-in feature might as well put the final nail in the coffin. Debuting in September, iOS 14 will add a whole new set of concerns and an entirely new reality for the mobile advertising industry.
Most mobile advertisers have been planning for this moment, but that's not to say that it will not be problematic. Many industry players will have to re-engineer the way they go about their business altogether.
As if looking through a veil, the future is uncertain, making it easy to have a lot of misinformation, assumptions, and rumors floating around. But there are also great industry insights, eye-opening claims, and exciting solutions to what's in store.
Like in a sci-fi novel, there is always some truth to it:
Assumption: The mobile advertising industry will never be the same and there will be a spike in ad fraud
Fact or Fiction: Fact.
This assumption is very, very real. The upcoming months will be filled with complexities and challenges as mobile advertisers, publishers, SDK ad networks, Mobile Measuring Platforms (MMPs), Demand-side Platforms (DSPs), and more, embrace the new reality of working with the opt-in nature of IDFA, which will dramatically affect the way we track mobile attribution.
With the new complexities of tracking mobile attribution, fraudsters will rejoice in the turmoil and increase their number of attacks as it will be easier to stay in the dark.
Assumption: The IDFA is not entirely gone.
Fact or Fiction: Delusion.
IDFA, while not entirely obliterated, will be rendered nearly pointless, with industry experts predicting a 10-20% opt-in rate for IDFA access. This stems from the assumption that, if given the option, most users will decline from having their data tracked for mobile advertising purposes.
Assumption: Fraud device farms will flourish.
Fact or Fiction: Fiction (especially for Scalarr clients).
This myth is based on the fact that some fraud prevention tools use IDFA to track device activity and block devices based on their IDs. What's true is that this approach will not be efficient anymore.
Device farmers may consider scaling their device park with devices running on iOS 14. Fortunately, Scalarr Performance is completely independent of IDFA and is entirely unaffected by Apple's latest privacy changes. In fact, Scalarr Performance excels at detecting installs generated by bots and device farms with accuracy and reliability.
Assumption: It is game over for data-driven marketing.
Fact or Fiction: Fiction.
Fear not mobile advertisers. Data-driven marketing lives to see another day.
MMPs, for one, will continue to serve its purpose of measuring media buying and mobile marketing efforts. MMPs rely on mobile ad identifiers like Apple's IDFA and Google's Advertising ID (GAID) to measure campaigns' success. Now, they are announcing unlimited support for SKAdNetwork, an iOS library designed to track ad campaign performance.
Collectively, the mobile advertising industry and its key players need to treat the IDFA changes in iOS 14 as an opportunity to re-engineer their performance strategies and push for granular data-driven analytics.
Assumption: The AppTrackingTransparency framework will let us obtain IDFAs without user opt-in
Fact or Fiction: Fiction.
Tests of the beta version of iOS 14 show that things are not looking good for this method to obtain IDFAs sans user opt-in. Apple's documentation doesn't address IDFA without opt-in:
"To request permission to track the user and access the device's advertising identifier, use the AppTrackingTransparency framework. You must also include a purpose string in the system prompt that explains why you'd like to track the user. Unless you receive permission from the user to enable tracking, the device's advertising identifier value will be all zeros and you may not track them as described above."
Assumption: Malicious apps will simulate IDFA opt-ins.
Fact or Fiction: Fiction, potentially.
While it's possible that fraudsters may employ this strategy, this will only be confirmed once real data of these instances emerge. This could help fraudsters abuse the retargeting of campaigns, but it also puts them at high risk of being detected through hundreds of metrics and data-driven analytics from AI-powered technology. Once detected, fraudsters will lose all their efforts in collecting and spoofing device IDs.
Assumption: Fraud in FAN, DSPs, and SDK networks will reign free.
Fact or Fiction: Fiction.
It will indeed be significantly harder to track mobile attribution with accuracy, making it easier for fraudsters to operate. It will be messy, but it will be in the hands of fraud prevention services to step up to the plate and help their clients keep fraud at bay.
That's where Scalarr comes in, with its new fraud prevention service named Scalarr AutoBlock that tackles fraud before bidding in impressions and before it even gets to MMPs, giving advertisers a fault-free guarantee that ads won't appear on fraudulent ad placements.
This service combines AI technology with multiple data sources and data enrichment methods to analyze massive amounts of impressions, clicks, installs, and post-install events, to detect fraudulent app_ids and score them in terms of risk for potential advertisers.
This approach allows advertisers to prevent fraud very early on, even before fraudulent impressions have any impact on the final eCPI, leaving fraudsters with no place to hide behind the IDFA privacy updates.
We are in this together
We welcome iOS 14 and the IDFA changes as a step further in user data privacy. We feel confident that Scalarr AutoBlock will be fundamental in the fight against fraud in this new reality.
There is a fast and free way to validate how many impressions in your current traffic came from fraudulent sources: Click here to check your current traffic with Scalarr AutoBlock.
The only solution for mobile advertisers is to partner with anti-fraud tools that make use of powerful and intelligent technologies such as machine...
The road to Scalarr's foundation was paved with challenges and opportunities and in this in-depth conversation, you'll learn the story of Scalarr f...