Published on November 19, 2019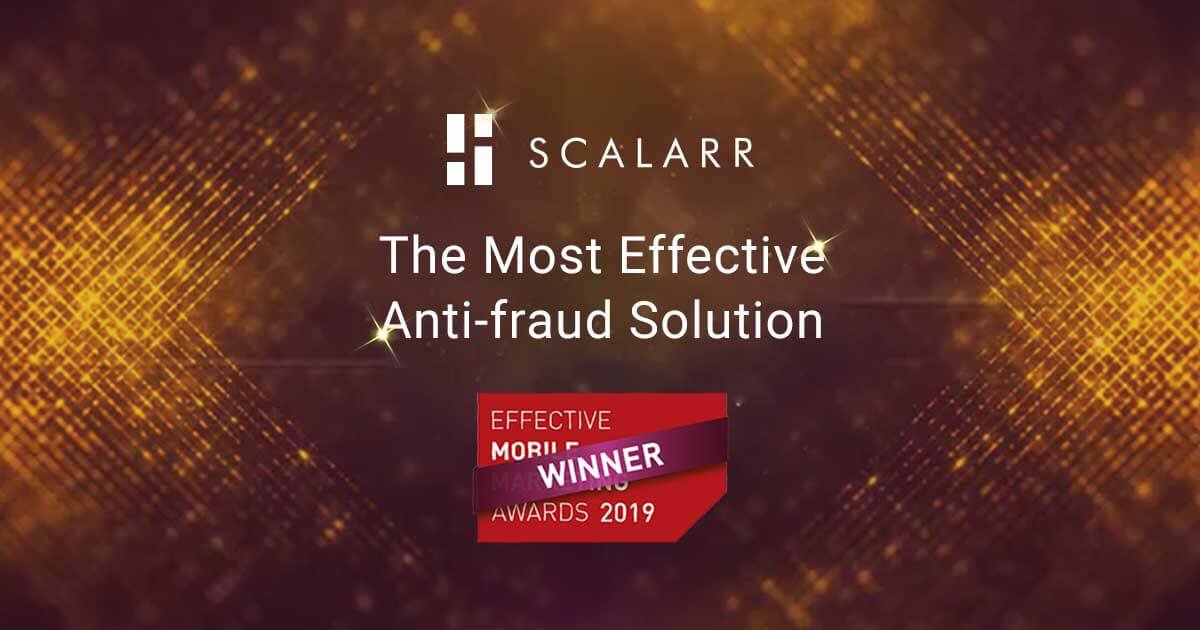 Effective Mobile Marketing Awards named Scalarr the winner in "Most Effective Anti-fraud Solution"
Scalarr is the proud recipient of The Most Effective Anti-fraud Solution Award, an honor bestowed by the 2019 Effective Mobile Marketing Awards in its 10th edition as they celebrate excellence in mobile marketing solutions worldwide.
The Effective Mobile Marketing Awards are established by the Mobile Marketing Magazine, a world-renowned specialist in the delivery of mobile marketing and tech news and research, hosting an array of professional marketing events.
In this coveted category, Scalarr shone brightly as the best anti-fraud solution in the market. With an outstanding year full of achievements, stellar headlines, and consistent growth, Scalarr is the one-stop solution that makes use of the most effective techniques to provide its clients with an all-inclusive solution that safeguards mobile advertisers from fraudster attacks.
"At a time where fraudsters continue to advance their methods, I am beyond proud that Scalarr is putting a spotlight on their criminalistic ways to stop them in their tracks - and what better proof than our recognition by the Effective Mobile Marketing Awards as "The Most Effective Anti-fraud Solution." This accolade is the result of the entire Scalarr team of brilliant professionals who are committed and passionate about bringing transparency to the industry and fighting fraud to protect our clients. I celebrate this commendation and applaud our team for their excellence - I expect great things and believe we are focused on providing even greater value to our clients," said Inna Ushakova, Scalarr's Co-founder and CEO.
With an unparalleled machine learning engine that guarantees accurate results of up to 97% in mobile ad fraud detection, Scalarr is spearheading the good fight against mobile fraud to protect its clients against every single type of malicious mobile advertising threats. With self-learning, automated, and killer multi-layered machine learning algorithms in place, Scalarr has all the right tools to process and analyze colossal amounts of data to detect and protect against fraud by recognizing even the slightest abnormality in traffic behavior.
Serving as the best line of defense against fraud, Scalarr helps mobile marketers and app developers detect and mitigate all types of fraud - and not only that but to also discover new types of fraud that seek to remain hidden.
With data, accuracy, and machine learning at the heart of what they do, Scalarr is wholeheartedly dedicated to saving their clients from huge monetary losses at the hands of fraudsters by becoming their most reliable high-tech solution in the war against fraud.
The only solution for mobile advertisers is to partner with anti-fraud tools that make use of powerful and intelligent technologies such as machine...
The road to Scalarr's foundation was paved with challenges and opportunities and in this in-depth conversation, you'll learn the story of Scalarr f...