Published on August 15, 2019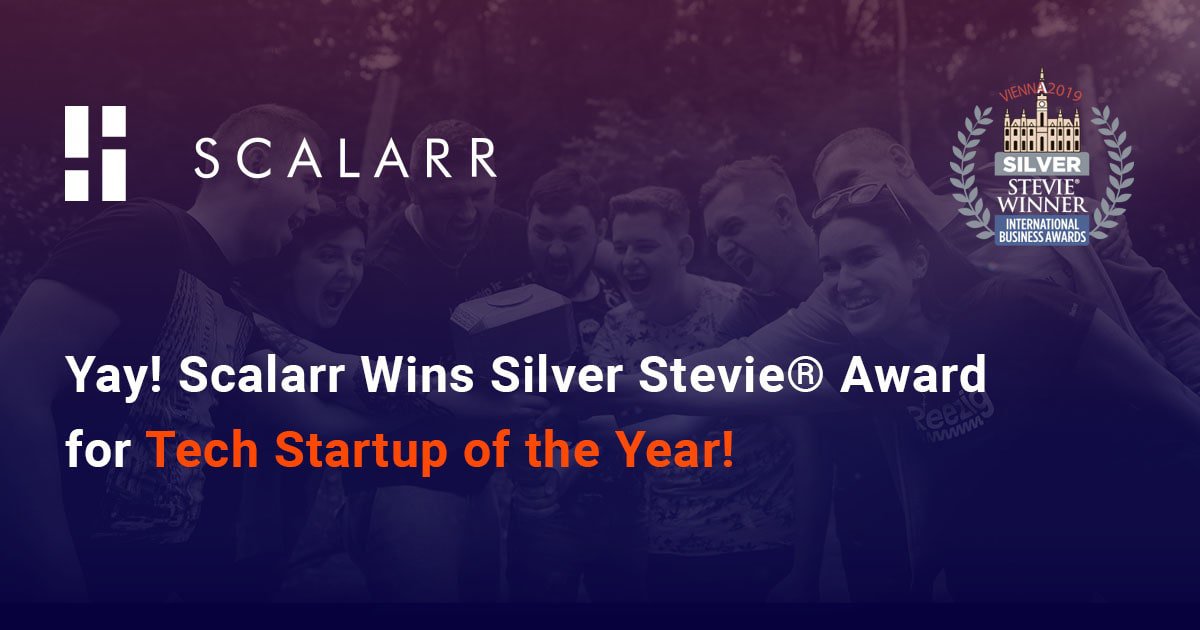 Yay! Scalarr Inc. named the winner of 1 Silver & 1 Bronze International Stevie® Award for Tech Startup of the Year and Startup of the Year.
For the second year in a row, Scalarr has been named the winner of International Stevie® Award in the following categories:
Tech Startup of the Year - Services - Scalarr Inc.
Startup of the Year - Business Services Industries - Scalarr Inc.
The International Business Awards are the world's premier business awards program. All individuals and organizations worldwide – public and private, for-profit and non-profit, large and small - are eligible to submit nominations. The 2019 IBAs received entries from organizations in 74 nations and territories.
"It is an honor for us to be recognized as Tech Startup of the Year by the 2019 International Business Awards. We've put a lot of efforts aiming to build the most accurate solution on the market for our clients so they can save their marketing budgets and prevent any losses due to the frightening level of fraud," says Inna Ushakova, President & CEO at Scalarr Inc. "We truly believe that the mobile ecosystem should become more transparent and oversee this as our mission."
Stevie Award winners were determined by the average scores of more than 250 executives worldwide who participated in the judging process from May through early August.
According to one judge: "This startup is very innovative and leverages the latest tech trends. Has made a breakthrough winning big clients. Scalarr has grown into an international company. This is a good product in the digital age where frauds have taken a new form."
A record total of more than 4,000 nominations from organizations of all sizes and in virtually every industry were submitted this year for consideration in a wide range of categories.
"The IBA judges from across the world were highly impressed with the nominations they reviewed this year. With the level of achievement documented in the nominations from 74 nations, the Stevie Awards are proud to honor organizations that demonstrate a high level of achievement in a variety of industries" said Michael Gallagher, president and founder of the Stevie Awards. "We received more nominations than ever and look forward to honoring the Stevie winners at our gala in Vienna, Austria this October."
To view the full list of 2019 IBA winners, visit: Stevie Winners.
About Scalarr Inc.
Scalarr is a Machine Learning-based anti-fraud solution that analyses click, install and post-install data to detect all types of mobile ad fraud and prevent marketing losses. Powered by advanced Machine Learning and Big Data, Scalarr automates the investigation of more data than is possible for a human, continuously learning and generating a personal model of fraud identification for every mobile app, thus significantly increasing the accuracy of fraud detection.
Currently Scalarr serving such worldwide famous mobile app and games developers as MobilityWare, DraftKings, Joom, Goodgame Studios, BigFish, Pixonic, Zimad, Auto.ru and many others, and intends to scale steadily.
About the Stevie Awards
Stevie Awards are conferred in seven programs: the Asia-Pacific Stevie Awards, the German Stevie Awards, The American Business Awards®, The International Business Awards®, the Stevie Awards for Women in Business, the Stevie Awards for Great Employers, and the Stevie Awards for Sales & Customer Service. Stevie Awards competitions receive more than 12,000 nominations each year from organizations in more than 70 nations. Honoring organizations of all types and sizes and the people behind them, the Stevies recognize outstanding performances in the workplace worldwide. Learn more about the Stevie Awards at www.StevieAwards.com.
The only solution for mobile advertisers is to partner with anti-fraud tools that make use of powerful and intelligent technologies such as machine...
The road to Scalarr's foundation was paved with challenges and opportunities and in this in-depth conversation, you'll learn the story of Scalarr f...