Scalarr Performance™
With over a 426M installs accurately analyzed in 2019 alone, Scalarr is helping app developers access the impact and quality of their ad campaigns.
Scalarr is the only anti-fraud solution that analyzes data from mobile ad campaigns at all stages, starting from the initial click and unlocking the post-install events analytics. By leveraging several layers of Machine Learning algorithms, Scalarr provides a comprehensive solution to manage your user acquisition and govern the mobile product ROI funnel, radically improving it.
Scalarr is the first solely mobile based anti-fraud solution that protects against app install ad fraud, preventing losses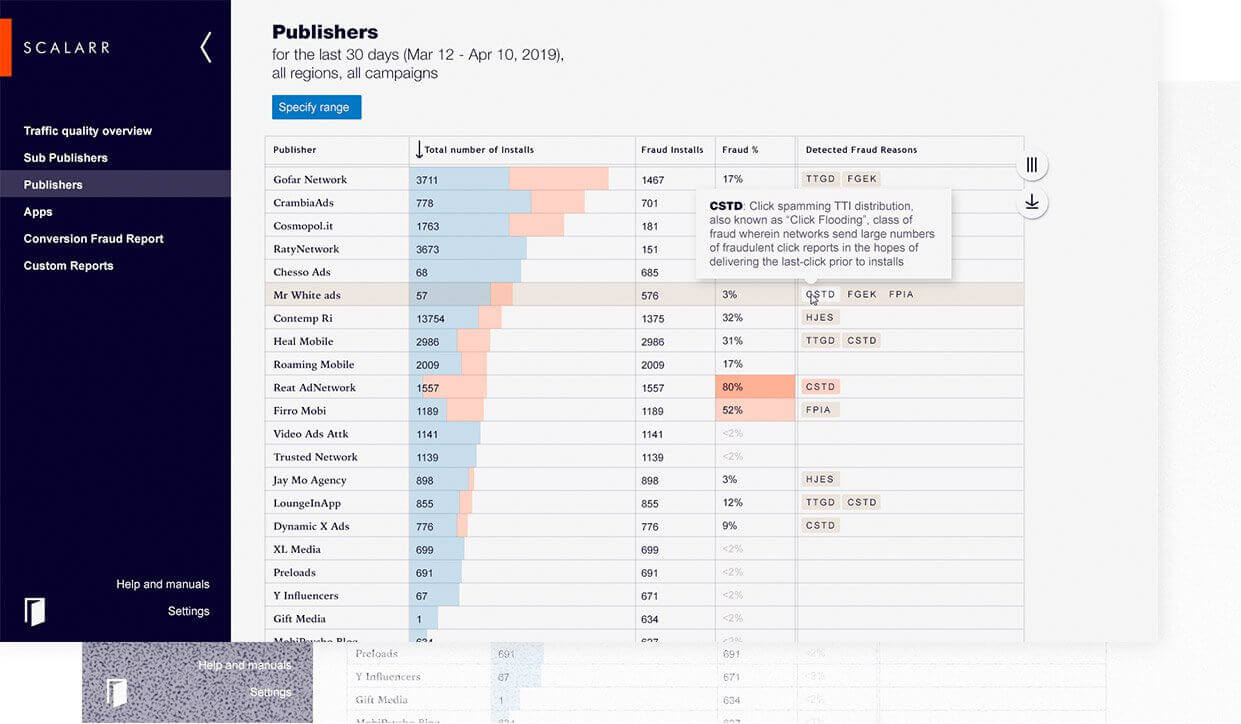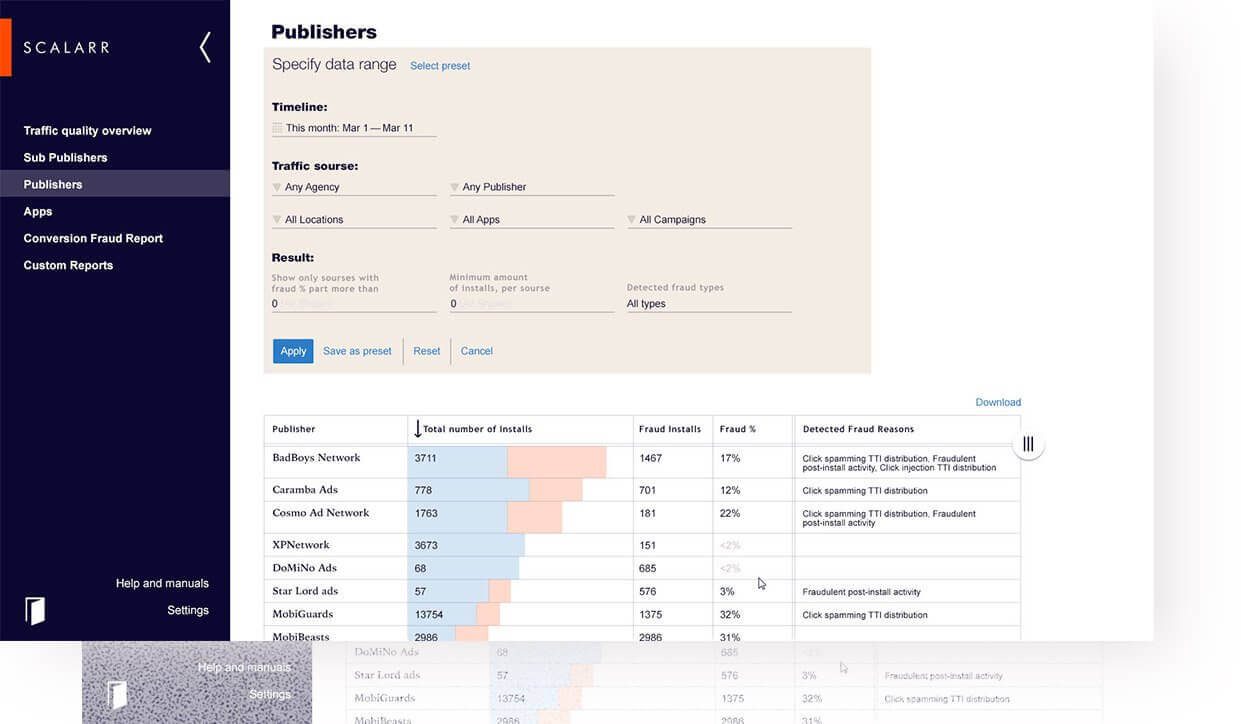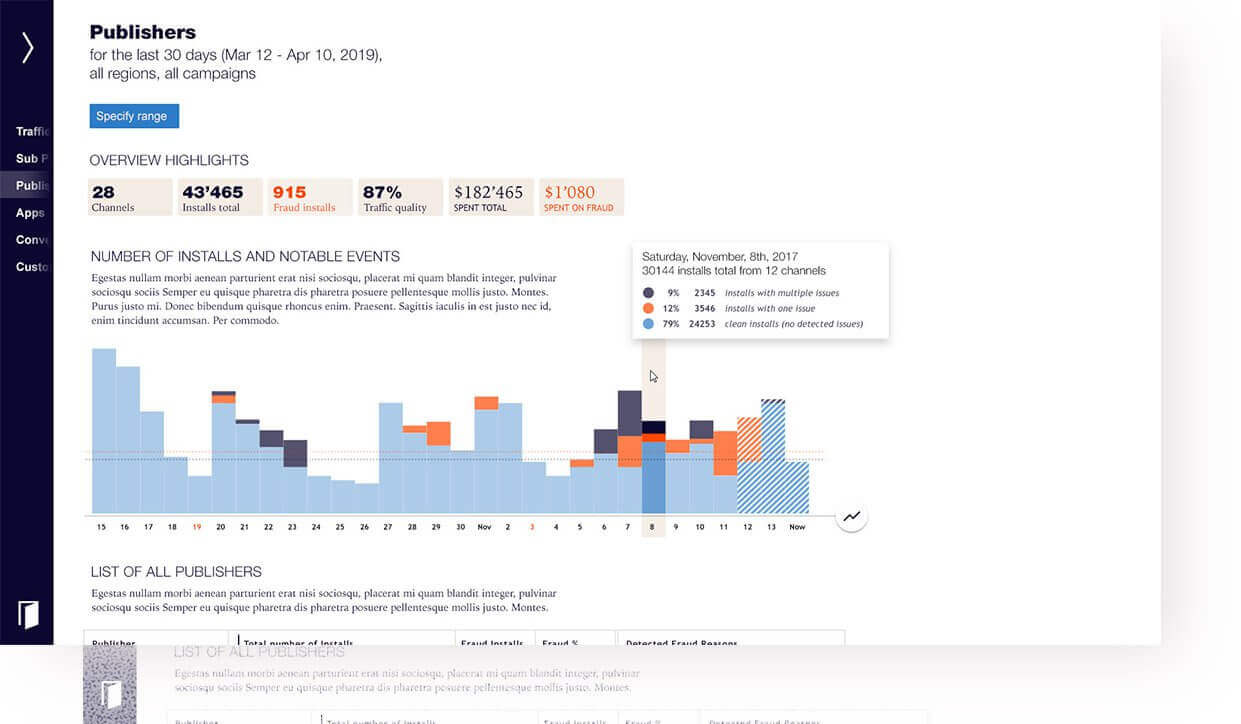 To easily collate data, interpret insights and recognize fraudulent behavior, put Scalarr's dashboard to work for you.
Request a demo
Consider every detail in ensuring your
revenue growth with Scalarr
By applying both unsupervised and semi-supervised Machine Learning algorithms, Scalarr solves the problem by analyzing deeply hundreds of features and variables, thus effectively reducing the number of false positive and false negative errors.
Overview your ongoing campaigns
Monitor the quality of your user acquisition campaigns to notice any suspicious sources.
Detailed reports (up to the sub-sub-publisher level) allow you to easily drill-down data to see the quality of your traffic.
Machine Learning algorithms deeply analyze hundreds of features and variables to detect and mark fraudulent installs.
Pay only for real users and forget about mobile app install fraud. Predict and maximize your ROI.
Scalarr introduces the most sophisticated
technologies to protect against fraudsters
At Scalarr, our main aim is to provide the most effective solution to detect mobile app install ad fraud and help app developers prevent losses. Existing fraud detection solutions use rule-based engines and supervised machine learning models, which have many limitations, thus making them vulnerable and inefficient. To meet our goal and equip developers with a strong tool, Scalarr introduces the latest sophisticated technologies to deal with the huge problem of fraud - Scalarr's Neural Networks, Unsupervised- and Semi-Supervised Machine Learning and Key Knowledge Database. Learn more
Benefits
Take actions with binary decision on the level of each conversion
No scores. No probabilities. Be confident in your decision with the unparalleled accuracy of binary outputs on your side. Scalarr marks fraud / no fraud on the level of each conversion, by analyzing hundreds of datapoints and even more connections between them. To arm you, we provide granular reports with the precise scope and context behind fraudsters actions.
Measure correctly with the Personalized Machine Learning Model for your app
To dramatically minimize the number of false positives and false negatives, Scalarr analyzes a large spectrum of data, including click-, install-, and post-install events; all while considering the individual parameters of each app. To ensure accurate results Scalarr applies personalized ML model and logic in data reconstruction and analysis for each app.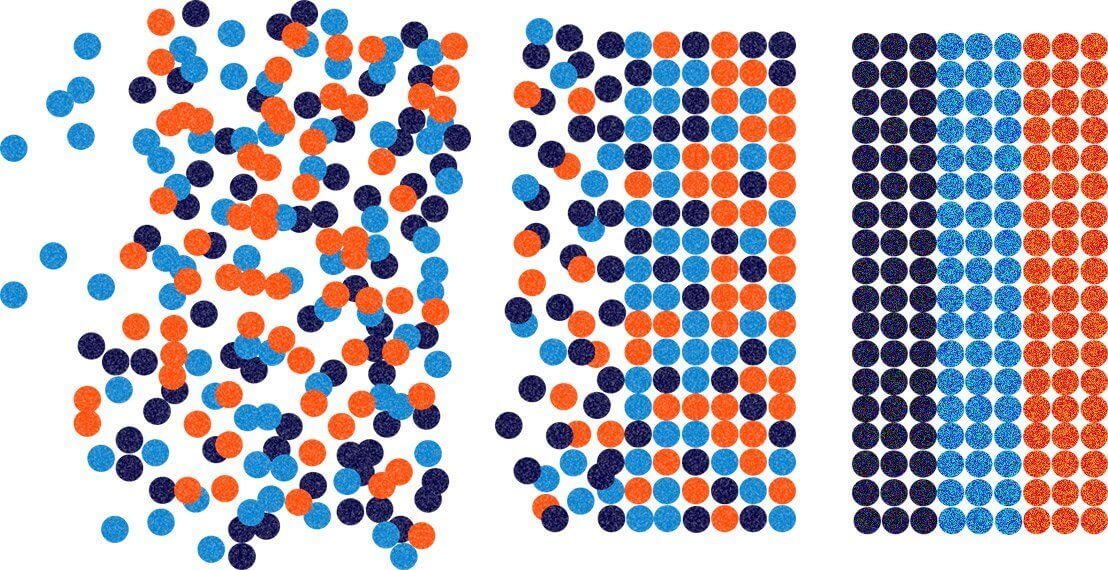 Get a complete view of fraudulent activities with true Machine Learning
Scalarr's Machine Learning algorithms provide in-depth and high-performance numerical computation and analysis of app install data, ensuring accuracy of up to 97%. Make your point with the true understanding of fraudster's attacks inside your ad campaigns.
Ensure further steady growth with our sophisticated ROI forecasting model
Originally developed by researchers, marketers and engineers within AI organization, Scalarr's Return on Investment tool helps measure and forecast your profits based on the actual performance of campaigns, and oversees the steady growth of your product (this functionality is currently in closed beta*).
Learn what's behind the fraud with sophisticated reasoning and data visualization
Scalarr comes with strong support for sophisticated reasoning and data visualization tools, making it possible to validate the results instantly and measure the number of fraud related attacks as well as the ability to see the whole crime ring.
A powerful solution that detects all types of mobile ad fraud with dramatically improved accuracy
Attribution
Fraud
All types of mobile attribution fraud, including modified patterns
Fraudulent Transactions
Fake
Installs
Fake installs, even when fraudsters create fake
users with real-looking
user activity
New and Modified Patterns
Mixes
The trickiest type of fraud, when fraudsters blend different kinds of attacks inside one media source
Ready to take action together with industry leaders, such as Huuuge Games, Joom and Pixonic?
Request a demo
Simple Workflow with Easy Integration
Our approach to integration is simple - you can choose whether to be integrated via customized post-back or directly via your tracker. Skip the setup time; instead, get up and running with this solution in minutes.







Scalarr is a young, but rapidly growing company. As we are processing large volumes of Customers' information our highest priority is to ensure data confidentiality, integrity and safety. We introduce a modern and advanced information security system that meets the requirements of the highest international standards.
Read also:
Find out how ZiMAD leverages Scalarr's Anti-Fraud Solution to fight mobile ad fraud, save marketing budget, and boost performance.
There is less room for "gut feelings" and applying old learning to the ever-changing mobile landscape.