Main #topics:
mobile apps
,
mobile ad fraud
,
advertising
,
ad networks
,
smart bots
,
device farms
,
modified click spam
,
trends
,
covid19
,
advertising industry
,
coronavirus
,
paid installs
,
pandemic
,
click spam
,
bots
,
fraud types
Published on May 26, 2020
Covid-19 has radically changed the way the advertising industry operates and this report details the most significant changes.
Introduction
To say we are living in uncertain times is probably the understatement of the decade. With confirmed cases of Covid-19 globally exceeding 5 million people at the time of this publication and a growing list of countries in lockdown, life as we know it has gone haywire.
In this new normal, businesses, schools, and any forms of social gatherings are shut down; cue video meetings as the new standard to interact, with Zoom, Slack, and similar services experiencing explosive growth. Also, Amazon deliveries are on our doorstep constantly to avoid going out for things like groceries or over-the-counter drugs. Our smartphones and streaming services have elevated their roles in our daily lives as the main sources of entertainment, and it seems as if we won't run out of Netflix content to stream for the time being.
These are just examples of the banal things that form the tip of the massive iceberg of things to wrap our heads around. On a far more serious note, the healthcare and financial sectors are the most severely impacted in this pandemic. As of now, we all face an unsettling reality: this virus, historic and unprecedented, shows no signs of ending any time soon.
Our lives heavily depend on online tools now. In a new analysis from The New York Times, it is said that "we are looking to connect and entertain ourselves, but are turning away from our phones." In stark contrast, other sources claim phone screen time has skyrocketed.
In this report, we examine where the world of advertising and the mobile industry collide as they try to adapt to this crisis of global scale. he collateral effects of this pandemic are reaching historic heights, making it clear that we are dealing with unchartered territory.
Let's examine how advertising is coping.
The Advertising Industry: A Pandemic Outlook
It's no surprise that the health of the advertising industry is directly linked to the wellbeing of the global economy in general. Already, we can clearly tell that the coronavirus crisis will leave permanent dents in the advertising and mobile industries, which were among the first ones to feel the aftermath of the pandemic.
Early predictions estimated that worldwide digital ad spending would reach $656 billion in 2020 - but we're not so sure, anymore. With a more cautious estimate, Juniper Research forecasts that digital ad spend (including online, mobile, in-app, SMS, DOOH, and OTT TV services) will reach $520 billion by 2023, a significant increase from the $294 billion estimated for 2019.
At the moment, it's kind of hard to see how these numbers will materialize with numerous brands pausing or full-on stopping advertising efforts. According to the trade group IAB, overall spending on digital ads for March and April 2020 is down 28% from what was originally expected.
According to Statista, "in a March 2020 survey of U.S. marketers and ad agencies it was found that 89 percent of respondents had made changes to their promotional efforts in response to the coronavirus outbreak. Among the most drastic changes made was canceling a campaign completely, according to 34 percent of responding industry professionals. When the question was repeated in early April this share increased to 44 percent."
This comes to reinforce the fact that brands are wary of associating their name with outbreak-related content, which greatly reduces the outlets they choose to buy from.
Changes in User Behavior and the Role of Mobile
An indicator of just how severely this pandemic has affected the advertising industry is the index of consumer expectations, a metric that is measured by the University of Michigan and that shows a dramatic low point in early May 2020. This pessimistic view shows that consumers are not very interested in buying as the future is uncertain.
This translates to reduced marketing efforts as brands come to terms with the fact that people have stopped consuming goods like they used to, with the exception of first necessity items like food, medicines, and other everyday essentials.
In parallel, as people transition most of their lives to an online setting, mobile apps have taken center stage. Here, advertising efforts are actually increasing.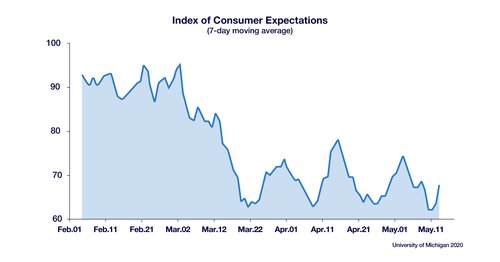 Particularly in mobile, and based on a revised 2020-2024 market forecast, there's a recent surge for app downloads that deal with remote work, education, games, etc. The truth is we are all spending most of our days at home, which directly affects our mobile consumption habits. As stated, several apps are experiencing a surge in their activity: games, grocery e-commerce, premium news, online shopping, online banks, health and fitness, meditation, e-learning, etc.
With the exception of some industries like travel that is severely hindered by the pandemic, mobile app downloads are taking off in both the Google Play Store and Apple's App Store. For example, TikTok passed the 2 billion download milestone amid Covid-19.
Surprising Trends
Below, you will find surprising, yet very interesting, findings and trends as a result of Covid-19 across different industries: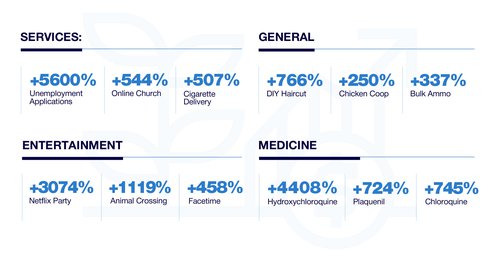 Mobile Ad Fraud In Covid-19
According to a piece in Forbes, the average ad fraudster makes $5-20 million dollars a year, which gets you an express ticket into the top 1%. With Covid-19 in the picture, fraudsters are looking for ways to take any piece of the pie they can.
Juniper Research estimates that advertisers' total loss to fraud will rise to $100 billion by 2023. Only $16 billion will be salvaged from potential ad spend lost to fraud as a result of the lack of adoption of anti-fraud solutions and the increasingly complex tactics of fraudsters.
As a result of the pandemic, brands that continue to advertise online have seen the cost per 1,000 impressions (CPMs) fall and the trend for cost per click (CPC) to stay flat or down, which has resulted in a higher return on ad spend (ROAS), according to Influencer Marketing Hub.
While this sounds like a good deal, our data shows a drop of nearly 40% in paid installs, cementing the fact that advertisers are cutting back on spending.
So, what does this mean in the world of mobile ad fraud?
Our data shows significant changes in the types of fraud being deployed by bad actors. In the December 2019-February 2020 period, the most common types of fraud were smart bots and modified click spam, which both accounted for approximately 65% of fraud.
Now, in the March 2020-May 2020 period, the most frequent types of fraud are bots/device farms and smart bots, both totaling nearly 85% of all fraud.
Dramatically, modified click spam has seen a drop from 28.55% to 7.24% in the past 6 months. Another interesting tidbit of information is that Complex VTA Spoofing nearly doubled in size, growing from .87% of fraud to 1.44%.
All of this shows signs that advertisers are concentrating their spending on giant networks such as the Facebook-Google duopoly and DSPs, discarding the use of lesser-known ad networks for the time being.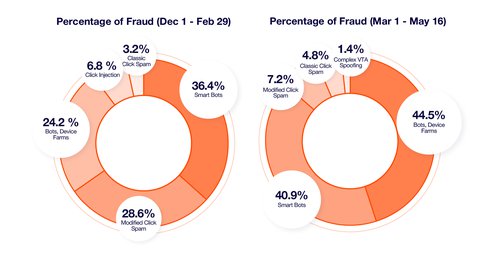 While reduced budgets are the reality for most mobile app developers, gaming apps are increasing their volumes as more people stay home and use their smartphone to play.
This increase in the number of organic users translates into an increased amount of attribution fraud.
The fraud issue in the mobile industry has grown bigger and it requires 24/7 monitoring and analysis of daily traffic to safeguard apps. Machine learning algorithms are capable of processing massive amounts of data with more speed and accuracy than any human analyst could ever achieve. ML-based protection finds hidden correlations and patterns between user behavior and the likelihood of fraudulent activity.
To Sum Up...
During this pandemic, the mobile apps industry is experiencing a massive surge in app downloads as more and more people stay at home and shift their consumption behavior online.
From our data, we were able to see a dramatic drop of nearly 40% in paid installs, cementing the fact that advertisers are cutting back on spending.
Before Covid-19 took off as a global pandemic, the December 2019 - February 2020 period, showed that the most prominent types of fraud were smart bots and modified click spam, accounting for nearly 65% of fraud.
Now, during the March-May 2020 period, the most dominant fraud types are smart bots and bots/device farms, both totaling approximately 85% of fraud.
Advertisers are focusing their spending on big networks like the Facebook-Google duopoly and DSPs.
With more people home, the number of organic installs has grown. As a result, the amount of attribution fraud increased as well.
We're All In This Together
For the advertising industry, the reality is that budgets are being reduced to cope with the uncertainty we're facing due to this pandemic. Because of this, many businesses are inclined to hold back on expenses such as anti-fraud solutions.
This could backfire for the advertising industry as fraudsters revel in the loss of safety measures and they will try to gain some of the hard-fought territories the industry has accomplished over the past few years.
Scalarr is committed to ensuring that all players in the industry have the tools to maintain a strong stance against fraudulent traffic and we will continue to do our best to give you the insights and protection you need.
We'd hate to see the online advertising industry lose ground in the fight against ad fraud, as now more than ever, we're reminded that we're all in this together.
More than anything, we hope you and your loved ones are safe.
Sincerely, Scalarr.
---
"I wish it need not have happened in my time," said Frodo.
"So do I," said Gandalf, "and so do all who live to see such times. But that is not for them to decide. All we have to decide is what to do with the time that is given us."
J.R.R. Tolkien, The Fellowship of the Ring.
The only solution for mobile advertisers is to partner with anti-fraud tools that make use of powerful and intelligent technologies such as machine...
The road to Scalarr's foundation was paved with challenges and opportunities and in this in-depth conversation, you'll learn the story of Scalarr f...