Published on February 25, 2021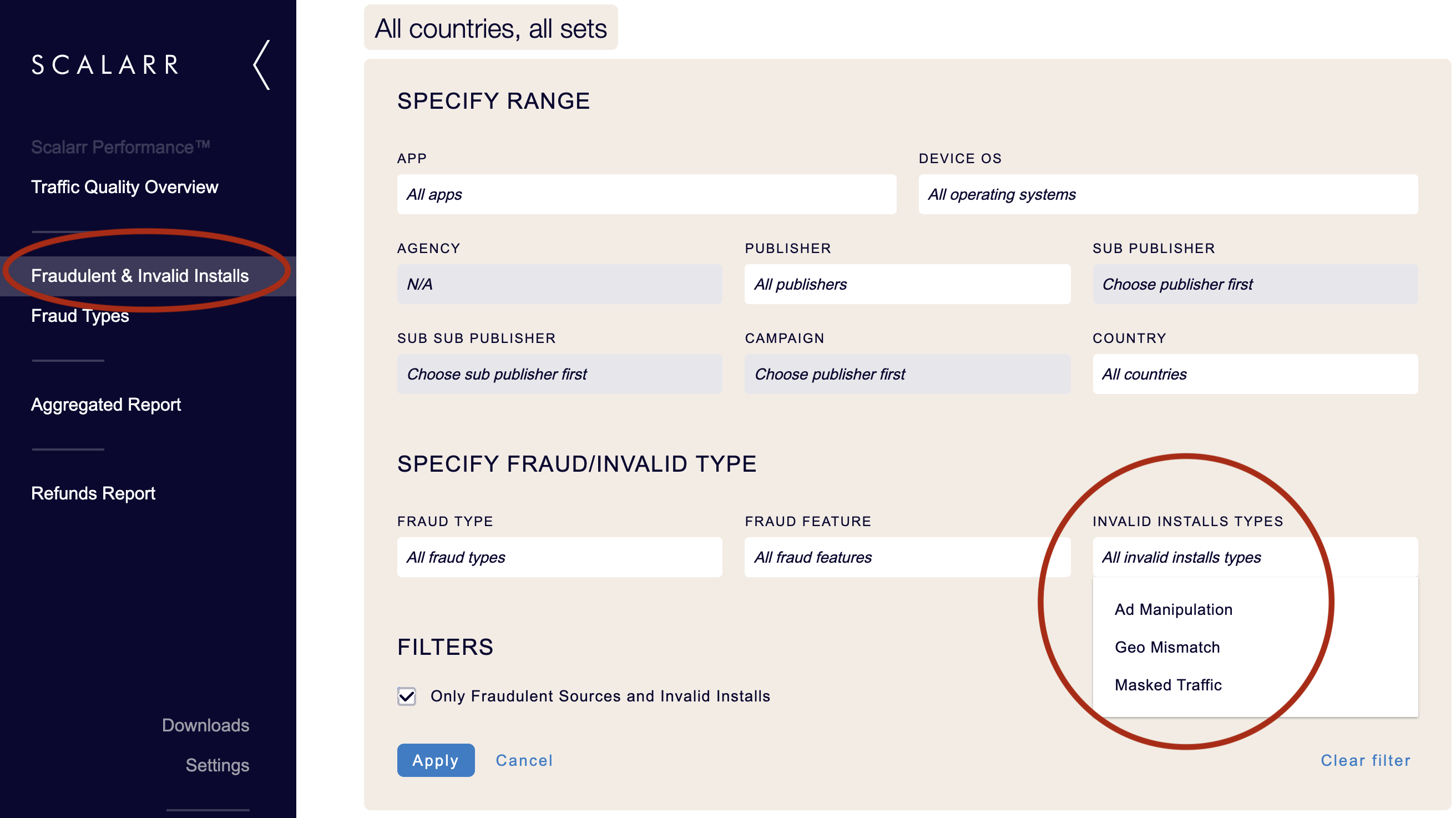 After a full year of what can only be described as unprecedented events, you are probably at maximum capacity of things to worry about in your user acquisition (UA) campaigns. Unfortunately, there's one more thing to add to your ever-growing list of things to consider when optimizing your ad strategies: fraud in the form of invalid traffic.
If you're wondering about what invalid traffic is, here's our definition: invalid traffic is any form of activity that doesn't come from a properly targeted or genuinely interested user. Invalid traffic, in most cases, is not done with the intent of tricking app developers directly.
On the other hand, fraudulent traffic is where user-like actions are generated by bad actors who want to defraud advertisers or supply partners by exploiting mobile ad technology vulnerabilities.
Invalid traffic combines different aspects relevant to traffic optimization but does not directly relate to classic fraud patterns. It may refer to masked users, issues with campaign setup and targeting, or suspicious creatives.
Despite the reasoning and actors behind invalid traffic, UA efforts may suffer since budget spending may end up on irrelevant or low-performing audiences.
In a nutshell, invalid traffic creates a severe problem for you because you may wind up paying for installs from users you didn't initially target.
Let's talk about the different types of invalid traffic.
Masked Traffic
In this type of invalid traffic, we deal with suspicious users that hide their origin by using different tools. This type of invalid traffic is achieved by creating a private datacenter VPN server or using a commercial VPN server provider.
An example of masked traffic can be if a user sets a DCH/VPN in the USA but is actually located in China. This can happen in applications that are officially banned in specific regions, so users attempt to hide their real location to gain access to the application despite limitations.
Masked traffic is the most popular pattern we've identified. Here's a real-life scenario where one of our clients suffered from masked installs: our client promoted a $10 subscription plan for their US audience and a $5 subscription plan for CIS locations. They were cheated by users who used a VPN to change their GEO location to get the cheaper price. As a result of our negotiation with the publisher, we helped refund our client over $3,000 for only one ad campaign in a 1-week period.
Whatever the case may be, it's less than ideal for specific geo-related campaigns to allow and pay for a flood of misdirected users. Ideally, the client shouldn't pay for the US rate of this install. Let's put it this way: you wouldn't like to pay the full price of a box that may or may not have an iPhone in it, would you?
GEO Mismatch
The GEO Mismatch type of invalid traffic deals with Installs that are mistakenly or intentionally generated by having incorrect targeting settings from the publisher or sub-publishers.
For example, you have a campaign where you want to target countries like the USA and Canada, but instead, you get installs from different GEOs like Iraq or Brazil. These types of invalid issues are not only a question for UA budgets, but it also distorts product metrics and the feedback loop for soft launch cases.
This is the second most popular type of invalid traffic we encounter. The latest case we had was with one of our clients where the ad publisher was showing our clients' ad campaigns to non-targeted GEOs to earn more money. Instead of having a 100% US-based campaign with a $4 CPI, our client got 1% of installs from Indian users where the real CPI is not higher than $.5. As a result, our client paid $2,400 for 600 non-targeted users instead of only having to pay the real $300 cost in just a few days.
The best practice is for you to be really strict and limit your GEOs to the specific countries you want to test your app before going global with an adopted solution.
Ad Manipulation
Ad Manipulation is a form of invalid traffic where creatives or user flows are manipulated. This type of invalid traffic helps detect when an advertiser or an app placement is being manipulated with auto-clicks.
Playable ads or vidget traffic are typically attributed with a significant share of organic users (a minimum of 30%), so it's important that you carefully review the attribution of these types of creatives to ensure you detect manipulation.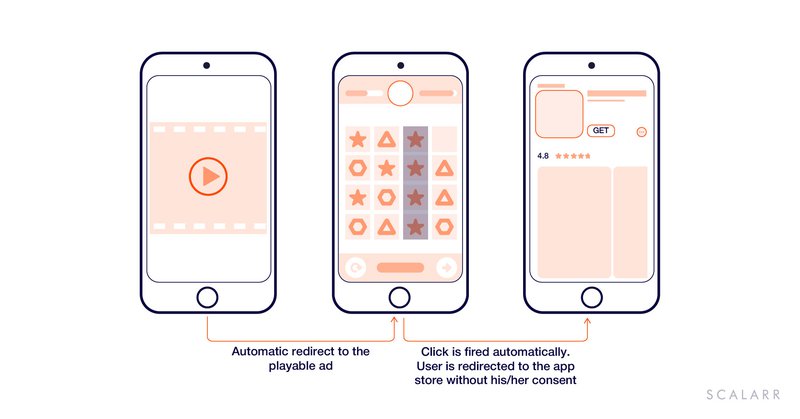 These kinds of issues may lead real users to your app or game, but they will most likely not stay for a long period of time, only resulting in you burning your marketing budget.
The good news is that we are here to help. Scalarr recently released an invalid traffic feature set that helps you detect and prevent invalid traffic from permeating your funnel, all with the accuracy that distinguishes our suite of solutions. The new invalid traffic feature set accompanies our Fraud Detection solution with more options to protect you from paying for fake or irrelevant installs, giving you a clear view of the type of invalid traffic in your installs.
By getting to the nitty-gritty in your data and pairing that with our cross-products and our recently released DeepView solution, we can help you cover a wide range of UA channels and stages and analyze user flows to see global trends and data interaction.
In December 2020, our team set out to search for invalid traffic in different mobile apps and games, and based on the results of the research, we helped refund more than $1.6M for our clients as a result of invalid traffic.
In specific, our team found that Masked Traffic accounted for 12%, GEO Mismatch from 25-90%, and Ad Manipulation up to 10%.
With numbers like this, it's imperative that you take action and prevent invalid traffic from siphoning money out of your budget. Our new invalid traffic feature set is designed to detect invalid traffic in your funnel.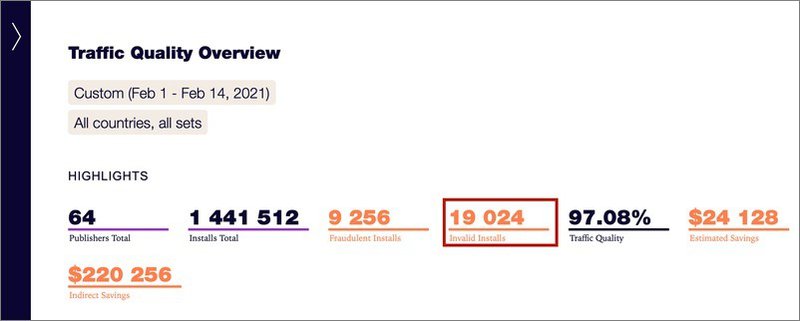 Our comprehensive solution offers you a portfolio of services to protect you against fraud and accurately detect it by analyzing your impressions, clicks, installs, post-install data, all the way to real-time bidding (RTB).
We dive deep into every part of your advertisement funnel to detect fraud and mitigate it at all stages. From placement to impression to a user, we help you detect and discern human behavior from artificial behavior with premium accuracy.
The only solution for mobile advertisers is to partner with anti-fraud tools that make use of powerful and intelligent technologies such as machine...
The road to Scalarr's foundation was paved with challenges and opportunities and in this in-depth conversation, you'll learn the story of Scalarr f...