Published on November 18, 2019
The most popular fraud types are in fact bots and smart bots, which are both responsible for 57% of all mobile ad fraud in 2019
Just when you think you have mobile ad fraud figured out, fraudsters go ahead and shake things up by reverse-engineering their practices with the goal of staying undetected for as long as possible. Of course, the main goal is to steal money, so fraudsters are constantly deploying new, more sophisticated and advanced fraud methods.
If you think your app is safe, think again. Take a look at these hard facts that are the result of exhaustive research performed by Scalarr's team of experts in data science and analytics to shed light on the ugly truth about fraud in 2019.
Victims of Fraud: App Categories That Fraudsters Love to Target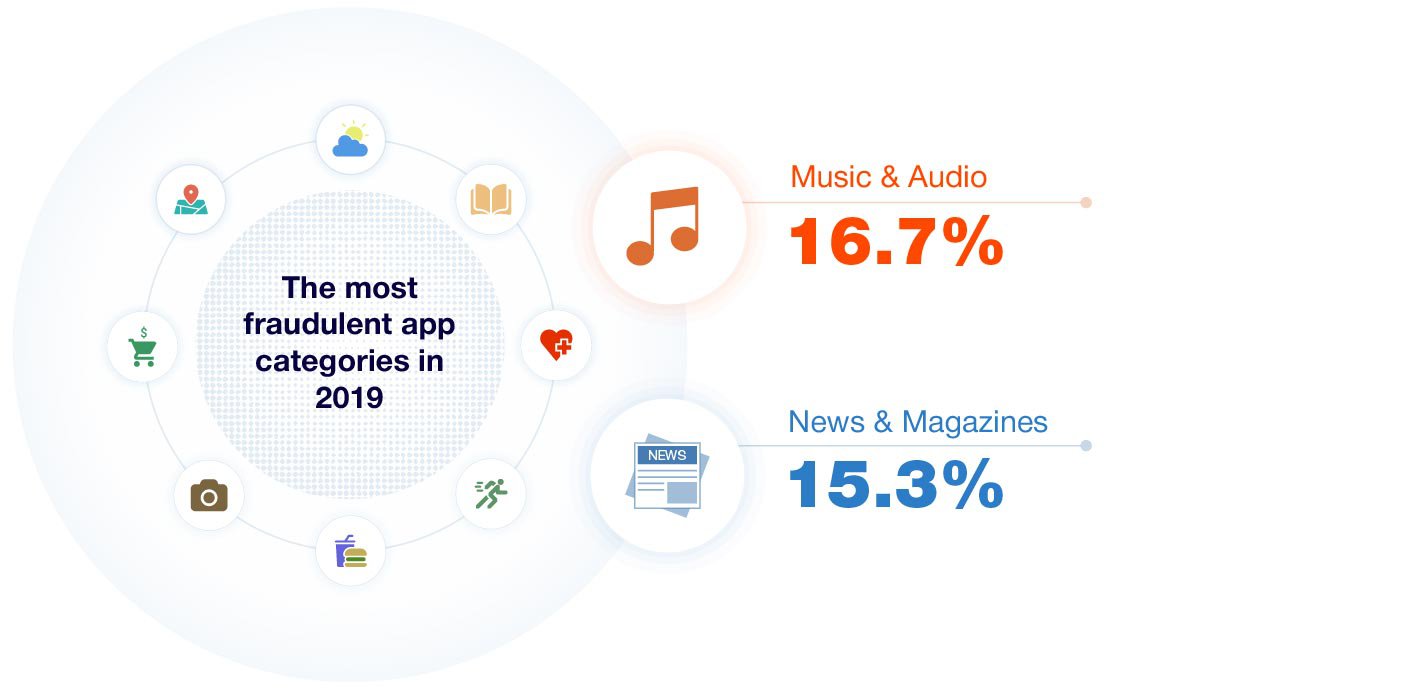 Compared with previous years, the gaming industry as a whole has significantly reduced its fraud rates with only 4.5% on average in 2019.
The Entertainment and Shopping app categories are some of the most attractive targets for fraudsters as CPIs are up 32% in comparison with 2018. And, with more money involved, fraudsters will want to steal a big piece of that pie.
The Landscape of Fraud Types
Drum roll, please. The most common fraud types, accounting for more than 90% of all fraud, are click spam, bots, and smart bots.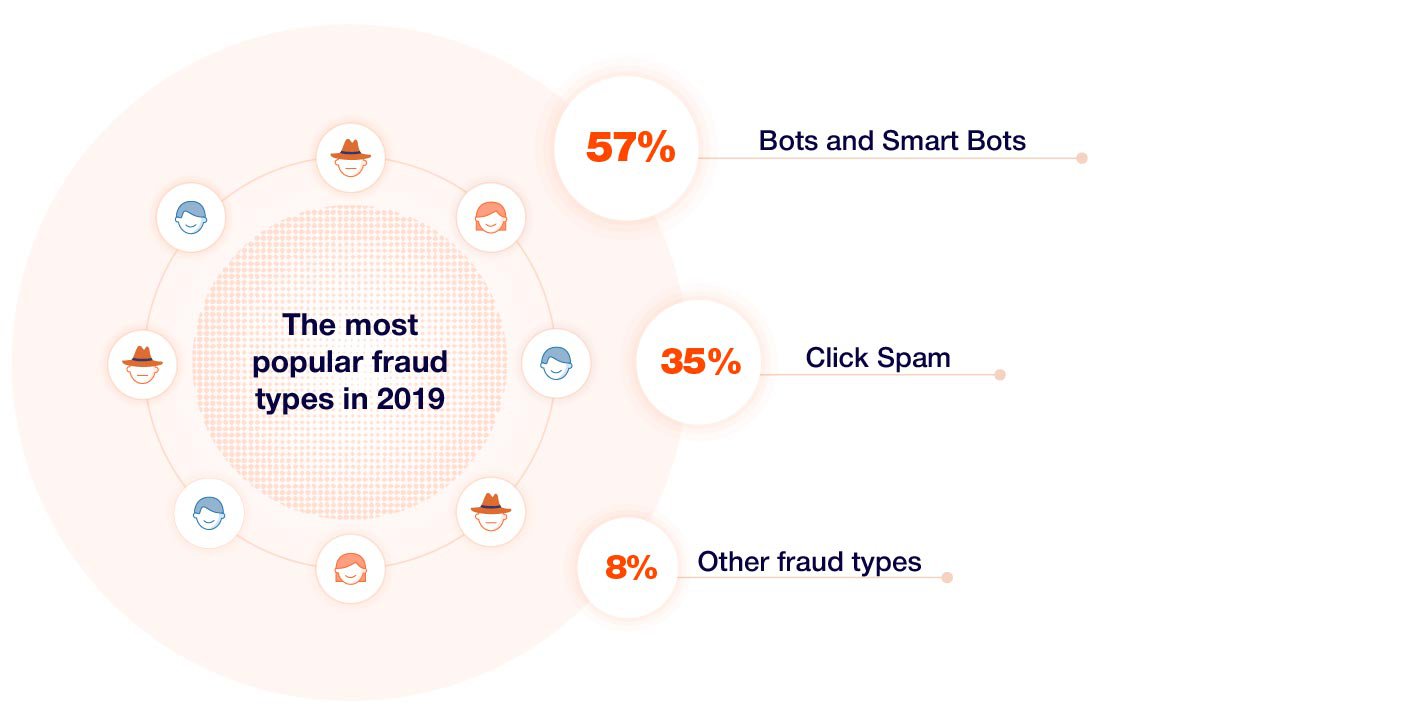 New, more sophisticated fraud techniques emerge as proven by Scalarr's discovery of Complex VTA Spoofing. Complex VTA Spoofing is the practice of faking tracking links to spoof clicks as impressions.
Fraudsters were getting away with Complex VTA Spoofing since traditional anti-fraud solutions typically overlook ad views - but with multilayered Machine Learning algorithms on their side, Scalarr was capable of discovering this new fraud type, saving their clients millions of dollars in potential losses.
Note:
Complex VTA Spoofing is estimated to affect nearly 60% of attributed paid installs in given campaigns.
Fraud is Everywhere
The estimated losses caused by mobile ad fraud in 2019 are expected to reach $12.6 billion - a jaw-dropping number that is hard evidence of the fact that mobile ad fraud is on the rise and shows no signs of stopping any time soon.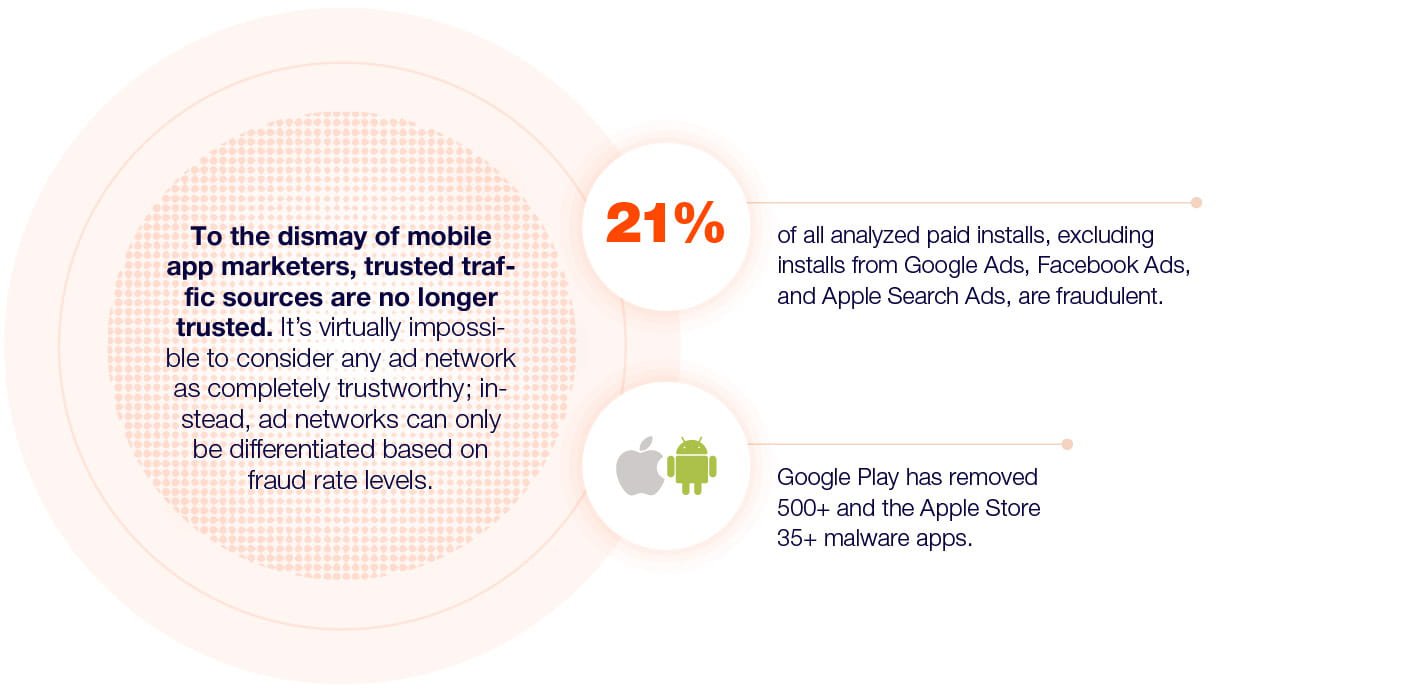 Fraud is an adaptive, evolutive crime that requires the most intelligent data analysis tools to detect and prevent it, namely Big Data and Machine Learning.
Final Thoughts
The mobile app industry has seen explosive growth in recent years - a fact that hasn't gone unnoticed by fraudsters who are deliberately doing everything in their power to steal from marketing budgets.
And to make matters worse, one of the biggest trends in the mobile ad industry is the speed with which fraudsters reverse-engineer their schemes to remain undetected, deploying new, more sophisticated, advanced, and dangerous fraud types to fly under the radar. Mobile app marketers must take robust protective measures to safeguard the integrity of their apps and make data-driven decisions.
Gone are the days where traditional anti-fraud solutions could get the job done; nowadays, the single, most effective strategy is to make use of machine learning anti-fraud solutions that specialize in this intelligent technology to not only detect existing fraud types but to also discover hidden new fraud types. All with the accuracy, reliability, and scalability that only machine learning can guarantee.
The only solution for mobile advertisers is to partner with anti-fraud tools that make use of powerful and intelligent technologies such as machine...
The road to Scalarr's foundation was paved with challenges and opportunities and in this in-depth conversation, you'll learn the story of Scalarr f...