Published on April 12, 2021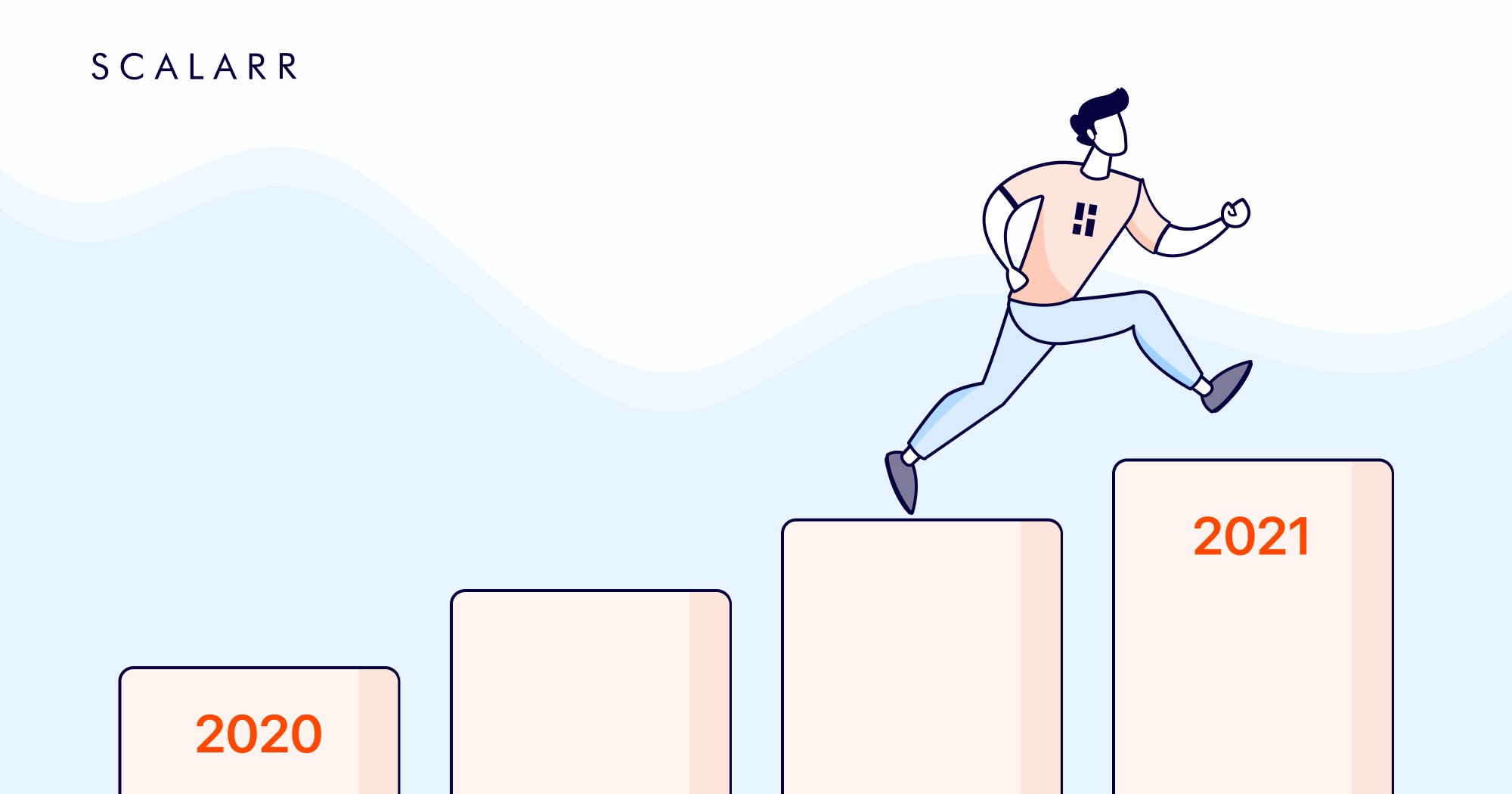 2020 Recap
Try and think back to March 2020—we know, it feels like a lifetime ago—where uncertainty and fear of a disease we knew so little about were spiraling out of control. The biggest priority for everyone was to try and stay safe; and of course, economies across the globe were scrambling to survive.
For the advertising industry, it meant pausing or downright cutting on digital ad spending. It was challenging, to say the least, to plan user acquisition campaigns with the right tone and message. Working for big or small companies, most marketers were content with surviving. Yet, with a lot of us at home, mobile downloads skyrocketed. In fact, AppAnnie reported that over 218 billion new apps were downloaded in 2020 and over $240 billion were spent on mobile ads, a 26% increase over 2019.
Advertisers, many of whom were working with severely reduced budgets, had to concentrate even more on doubling down to create a cohesive, connected user experience to drive new acquisition. From new shows to stream to social gaming features and apps, the demand for new content and apps like videoconferencing and games was on the rise, making 2020 the year for acquisition.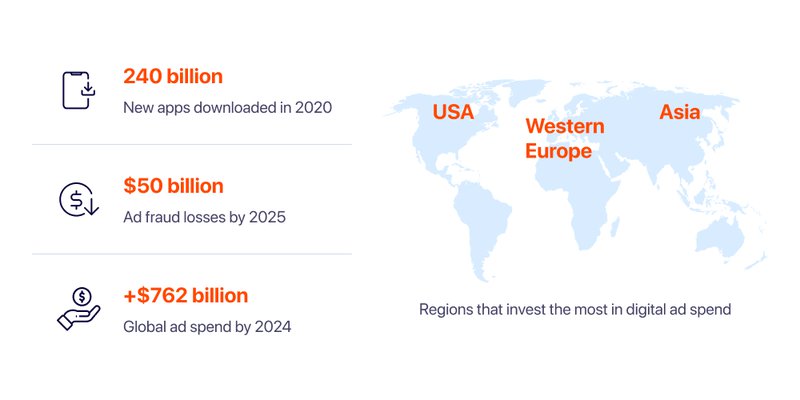 In fact, the first quarter of 2020 showed an average time spent per adult 18+ per day of 4.44 hours.
Now, even though business was booming, advertisers were working with slashed budgets, leaving out crucial factors that affect the quality of their traffic, namely mobile ad fraud.
With many advertisers leaving fraud as an afterthought, fraudsters seized the opportunity and expanded their operations. Explosive growth in mobile apps meant more money for them, and with security measures being softer, well...it was like putting ad dollars on a silver platter.
So, what could be done?
What We Accomplished
We shared the pains of the industry and focused on helping them save as much money as possible. In 2020, we negotiated over $22 million dollars in refunds for our clients. How did we do it? Our strengthened anti-fraud portfolio.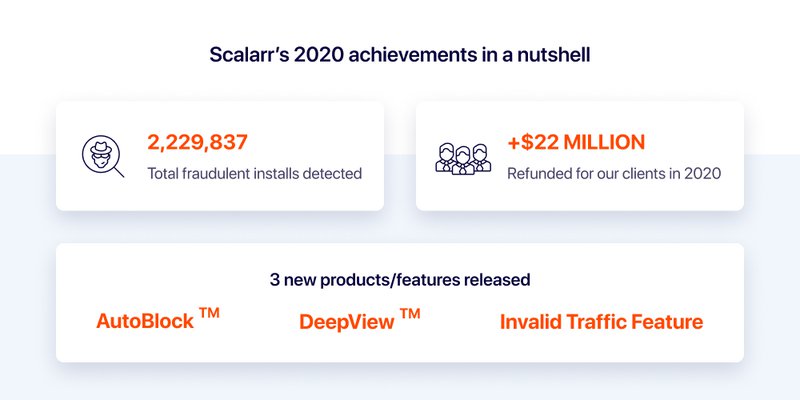 To address the sharp increase in fraud, and as part of our evergreen commitment to fight fraud with transparency and smart technologies, we released 3 new solutions that complement our arsenal of anti-fraud solutions.
A Black Book for Shady Apps
First up, we released Scalarr AutoBlock in July 2020, a pre-bid ad fraud prevention service that prevents our clients from having ads appear on apps involved in different types of fraud. AutoBlock's ready-made blocklist includes all fraudulent sources we've identified (and that we're constantly updating) and marks them as exclusions.
The key advantage of applying AutoBlock to your advertising funnel is the confidence of effectively avoiding bots and device farms that target:
FAN campaigns
SDK networks
Performance DSPs.
Other benefits include clean metrics free of fake views, clicks, and installs, and no longer having to engage in reject negotiations since you'll have zero fraudulent installs.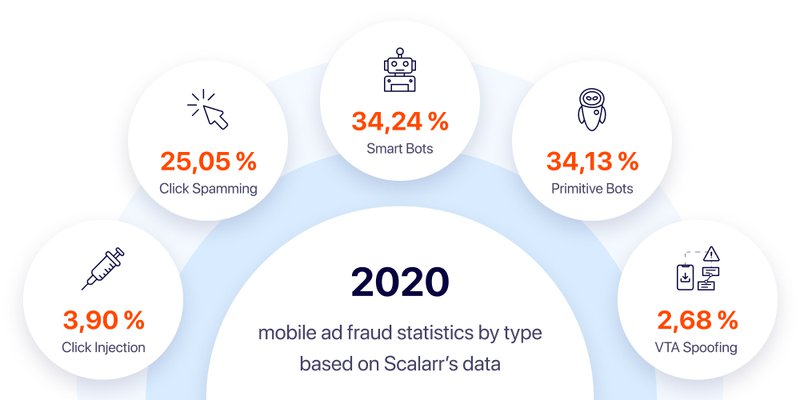 By the end of last year, Scalarr identified thousands of apps involved in different types of fraud activity, which included app spoofing, publisher fraud, defaced apps, malware, and smart bots. Our research showed that up to 7.5% of ad budgets are being paid for fraud/risky installs and so far, we've helped advertisers save up to 12% in ad spending by identifying and blocking fraudulent ad placements.
Our Encounter With The Programmatic World
Next up in our product releases was Scalarr DeepView. Powered by the latest and greatest in artificial intelligence and third-party data streams, DeepView is an advanced fraud detection software for all players of the programmatic ecosystem:
Ad exchanges
Demand-side platforms (DSPs)
Supply-side platforms (SSPs)
The gist of DeepView is analyzing millions upon millions of data points to detect even the slightest anomaly in Connected TV (CTV), desktop, and mobile traffic, user behavior, and identify patterns that alert to the presence of fraud.
The inception of DeepView came to be as we observed how traffic providers struggled with continuous rejects from their clients, which prompted us to dig deeper and unearth why ad tech fails to provide a fraud-free environment. With many challenges to address like high costs of fraud identification to outdated approaches and lack of flexibility from data providers, we built a disruptive product that the industry was in dire need of.
DeepView's algorithms can analyze 1 billion requests per minute thanks to its efficient infrastructure for added speed and scalability that can detect even the smallest sign of invalid traffic. Each real-time bidding (RTB) request is enriched with mobile market data and third-party data to yield the most accurate results.
During DeepView's beta release, we helped early adopters unveil multiple fraud schemes, like a Rocket bot farm, and save ~$7 million ad dollars.
Fighting Against IVT
Last but not least, we released an invalid traffic feature set that helps clients detect and prevent invalid traffic from infecting their funnel. By pairing client data with our cross-products like DeepView, we analyze user flows to see global trends and data interaction to detect invalid traffic.
There are three main categories of invalid traffic that we've cataloged so far:
Masked traffic. Suspicious users hide their origin by using tools like a private datacenter VPN server or a commercial VPN server provider. This is the most popular pattern we've identified.
GEO mismatch. Installs that are mistakenly or intentionally generated by having incorrect targeting settings from the publisher or sub-publishers.
Ad manipulation. Creatives or user flows that are manipulated on an app placement, like with auto-clicks.
All in all, we accomplished a lot, but it didn't come without its set of challenges.
Challenges & Plans for 2021
Like most in the mobile ad industry, we faced many challenges. Mobile ad fraud made itself present in the form of smart bots, intelligent device farms, and other sophisticated and not so sophisticated fraud types.
Around May 2020, we discovered an AI-powered click hijacking scheme that was being sold on the Dark Web, signaling the growing sophistication in fraudsters' MO. With a sharp spike in the usage of mobile apps and the overall lack of strengthened security measures protecting the ad funnel, a lot of criminal activity slipped through the cracks.
But as fraudsters grow more sophisticated, we grow smarter and continue to expand our portfolio of services to further protect our clients.
In addition, we also have to adapt, overcome, and present improved solutions to face the challenges posed by an industry that's continuously evolving. For one, the looming privacy measures introduced by Apple with iOS 14.5 as well as Google for Android, well, we all have a lot on our plate. We are continuously and actively looking for new solutions and seeking consultation with involved parties. Not only that, we are committed to offering uninterrupted support to our clients and provide ad fraud detection to the best of our ability, despite all upcoming changes.
What's on the Roadmap
For 2021, we have a number of projects slated to continue our vision for a more protected and secure mobile ad ecosystem. We continuously work on improving our fraud detection algorithms in Protection Suite and add more risky/fraudulent app_ids to our AutoBlock database. Speaking about the radmap of our recent release - DeepView, - we are going to improve its existing post-bid fraud detection functionality, prepare for the release of the pre-bid functionality, and focus on the analysis of CTV traffic which proved to be very prone to fraud. Also in the works, we are currently preparing a new cybersecurity product. Be sure to stay tuned for more news about our latest products.
Mobile Marketing 2021 in Light of iOS 14.5
Mid-year, as if things weren't a lot to handle, Apple threw a curveball at advertisers that caused a lot of headaches. The near demise of IDFA by turning it into an opt-in feature for users put advertisers in a tough position.
According to data from MoPub, iOS 14 had higher adoption rates heading into 2021. A few weeks after launch, adoption rates increased and passed the 50% threshold.
Now, Apple is throwing another curveball: iOS 14.5. With this new update, Apple is shutting down global deterministic attribution, making it virtually impossible for 3rd party ad fraud detection services to offer 100% coverage to the ad funnel. Fraudsters will have more and new opportunities to go all in and target highly lucrative rates of IDFA-enabled installs or go the route of non-IDFA shadow scams.
Here's some of what fraud-related consequences we can expect in 2021 following the release of iOS 14.5:
A sharp increase in device farms' activity since this type of fraud will become completely invincible against any fraud detection software. Fraudsters will generate "bot installs" by emulating IDFA for OS versions below and above 14.5. With the iOS14 changes going live, traffic with IDFA will cost more and fraudsters will try to grab the opportunity.
Manipulations with impressions. Since there is no way to track the ratio of the number of impressions per device with a hidden identifier (everything is also hampered by the poor variability of Apple devices), customers can be hit by a faked number of impressions, which will lead to a sharp increase of eCPI.
More click spam. We expect that fraudsters will spray clicks on users. Those who will stay on OS version 14.5 will be attributed to a fraudster network. Not all users will change to a new OS version; right now we see about 17% of all users in the traffic of our clients who still use OS version below 14).
To the best of our ability, we will continue to offer uninterrupted support and provide ad fraud detection in iOS despite all foreseeable changes.
Projections on Performance & Mobile Marketing in 2021
As COVID 19 severely affected advertising budgets, mobile ad placements saw the biggest year-over-year growth, where, most probably, advertisers were forced to look for cheaper inventory.
Mobile grew to $240 billion in ad spend and is set to reach $290 billion in 2021. Other booming industry segments included CTV, which is projected to suffer $44 billion in losses by 2022 due to ad fraud.
Global ad fraud losses in 2020 amounted to ~$35 billion according to industry stats, estimating that the losses will grow over 40% by 2025. This is paired with the fact that we expect mobile to continue to be a critical channel for advertisers as the world moves towards a more remote workforce.
Mobile app and CTV inventory will remain prone to ad fraud and with the dollar value of losses in the billions, even in the most optimistic of scenarios; this is the result of challenges in early fraud detection and prevention across the ad funnel, fragmentation in CTV advertising, high demand for new content for both mobile and streaming services, and low legitimate inventory supply to meet the new demands of the ecosystem.
Our commitment to the mobile ad industry is clearer than ever before: bring transparency and provide the most elevated form of detection and protection against mobile ad fraud to our clients—all with the expert levels of accuracy that make us stand out as the only player in the anti-fraud field capable of detecting every type of fraud scheme, regardless of its complexity level.
Looking forward to doing our part in contributing to brighter, fraud-reduced days in 2021.
#GoGoScalarr
The only solution for mobile advertisers is to partner with anti-fraud tools that make use of powerful and intelligent technologies such as machine...
The road to Scalarr's foundation was paved with challenges and opportunities and in this in-depth conversation, you'll learn the story of Scalarr f...